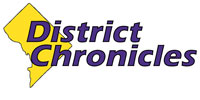 Post Classifieds
Iowans for D.C. Statehood announce unprecedented support going into District conventions
On April 28, 2016
Des Moines, Iowa – Iowans for DC Statehood (www.IowansForDCStatehood.com) announced support from former State Sen. Tom Fiegen, State Sen. Rob Hogg, former Lt. Gov. Patty Judge, and former State Sen. Bob Krause.
Also supporting the campaign are Iowa's congressional candidates from the 1st District: former Iowa Speaker Pat Murphy and former Mayor Monica Vernon; from the 3rd District: Desmund Adams, former Iowa Democratic Party Vice Chair Jim Mowrer and Mike Sherzan; and from Iowa's 4th District: Kim Weaver.
"It is very exciting for our organization to see this kind of support, especially going into the district conventions April 30th," said Tamyra Harrison, state director for Iowans for D.C. Statehood. "We continue to seek support from people across Iowa on this important issue and are very confident we will see this not only become part of the state platform, but see Iowa legislators at the forefront of this effort in Washington, encouraging other states to do the same."
Many Americans are surprised to learn that residents of Washington, DC, do not vote for national offices at all and that Congress, not the District's local government, establishes their budgets and sets their taxes.
A plank will be discussed and voted on at each of the four district conventions on April 30. If this plank is accepted into all four District Platforms, the State Platform Committee will consider it for adoption at the Iowa State Convention on June 18.
"With candidates in three – and quite possibly all four – Democratic congressional districts in Iowa openly supporting D.C. statehood, there is great momentum going into the District conventions on April 30, where we expect the plank in support of D.C. statehood to be included in all four district platforms," said U.S. Sen. Paul Strauss (D-D.C./Shadow). "We intend to replicate this successful model of civic engagement in other U.S. states. This progress is unprecedented and we will be forever grateful to the local grassroots efforts of Iowans for D.C. Statehood."
Get Top Stories Delivered Weekly
More districtchronicles News Articles
Recent districtchronicles News Articles
Discuss This Article