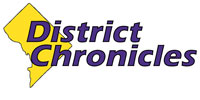 Post Classifieds
World mourns passing of Prince
By Avis Thomas Lester/Urban News Service
On April 27, 2016
As the world mourns the passing of the falsetto-voiced Prince – known for his sexual lyrics, sensual performances and steely determination to control his work – the music industry is reeling over the loss of a peerless talent.
Prince Rogers Nelson died last Thursday at his Paisley Park Studios in Chanhassen, Minnesota, a suburb of Minneapolis where he was found unresponsive in an elevator. He was cremated just a few days following his passing and family held a small service. Prince was 57.
Prince was "one of a kind, the greatest musician ever," Washington radio personality Donnie Simpson, a personal friend of the performer.
Stevie Wonder tearfully called him "incredible."
The praise over the airwaves and on social media was effusive.
"Boys 4 Life … Ain't nobody bad like Prince!" tweeted Morris Day, head of the Time, a Minneapolis-born funk group whose members worked with Prince and upstaged the star in his own celebrated 1984 movie "Purple Rain."
"Our GRAMMY family is deeply saddened to learn of the passing of seven-time GRAMMY Award winner Prince. Today, we remember and celebrate him as one of the most uniquely gifted artists of all time. Never one to conform, he redefined and forever changed our musical landscape," posted Neil Portnow, president and CEO of the National Academy of Recording Arts and Sciences.
Prince's death comes a little over two months after the passing of one of his protégés, Vanity, lead singer of the 1980s glam group Vanity 6. Vanity, whose real name was Denise K. Matthews, died Feb. 15 of renal failure; she was also 57.
His passing is the latest among several influential musicians in recent months. Rock legend David Bowie died Jan. 10 after battling cancer. And Earth, Wind & Fire founder and front man Maurice White died on Feb. 4 at age 74 of Parkinson's disease.
Washington radio personality DJ Flexx said the deaths of Prince, White and Bowie will have a permanent impact on the music industry.
"We are losing innovators. We are losing trendsetters. We are losing leaders," he said. "We are talking about people who changed the game, were responsible for trends that made people want to be like them. Who are we going to look to now to continue to lead?"
The son of a pianist father and a vocalist mother, Prince showed musical talent early in life. He taught himself to play the piano at age 7 and added guitar and drums to his repertoire by the time he reached high school.
According to statistics from the Recording Industry Association of America (RIAA), Prince has sold 20.5 million records.
Harris said that Prince, Lewis and he took a piano class in middle school that was beneath their skill level. While the teacher was attempting to teach them children's ditties, they were playing sophisticated music.
Lewis, a bass player, said Prince's attempts to help his classmates could prove painful. "He could pick up the bass and give you fits," he said. "And … he could do that same thing to any person who stepped on the stage because he was a student of music … We used to say, 'He is music.'"
He said Prince's work ethic was unparalleled. "Prince would rehearse us for four hours. He'd go rehearse his band for four hours. And then he'd go work in the studio all night. Then, the next morning he'd come to our rehearsal with a cassette in his hand and he'd put the cassette in and all of a sudden "1999" would play. And I don't mean a demo of '1999' – I mean '1999'. 'Little Red Corvette' would play. We'd be like, 'Damn, when did you do that?' He would say, 'Like, last night.'"
He stayed relevant even as he worked to stay out of the spotlight. His penchant for privacy, as well as his colorful outfits and trademark high-heeled boots earned a reputation for being eccentric.
"He wore high heels and makeup and I still thought he was the sexiest man alive," said Dorina Roberts, who was listening to Prince songs on her iPhone at the Martin Luther King, Jr. Monument in Washington, on Friday. "I loved his music and I loved him."
Prince was also an activist. He traveled to Baltimore last May in the wake of the death of Freddie Gray, who died after allegedly suffering an injury while in police custody, and the unrest that resulted. His "Rally 4 Peace" concert sold out. He sang a song he wrote called "Baltimore." He donated the proceeds to charitable causes in the city.
Get Top Stories Delivered Weekly
More districtchronicles News Articles
Recent districtchronicles News Articles
Discuss This Article