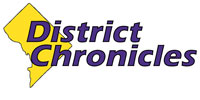 Post Classifieds
Education leaders celebrate college-bound high school seniors
On May 5, 2016
State Superintendent of Education Hanseul Kang was joined by Deputy Mayor for Education Jennifer Niles and U.S. Secretary of Education John B. King Jr. last week for a celebration of the District's high school seniors participating in the second annual Reach Higher: District of Columbia College Signing Day.
"Higher education represents hope and opportunity, prosperity and personal growth," said State Superintendent Kang. "Today, we proudly celebrate hundreds of District high school seniors who have committed to taking the next step in their education by attending college in the fall. I applaud their decision and am confident that the hard work and determination that got them to this point will lead to success in the future."
DC College Signing Day marks a symbolic step as 280 students from 36 District of Columbia Public Schools and public charter schools move on to the next phase in their lives and commit to graduating high school and college.
Reach Higher, a movement launched by First Lady Michelle Obama, is a campaign to encourage educators, schools, communities and parents to rally around young people so they consider higher education as an option, whether at a professional training program, a community college, or a four-year college or university.
DC College Signing Day serves as an opportunity to recognize all high school seniors from public schools in the District of Columbia who are committed to higher education when more often than not attention around college choice decisions goes only to promising athletes.
"Signing Day is a special and fun time to celebrate all of our students as they commit to higher education," said U.S. Education Secretary John B. King Jr. "We know that in a global economy, a high school diploma is simply not enough anymore. A person with a college degree earns $1 million more over the course of a lifetime than a person without one. I'm happy to honor and to congratulate these students in the District, because college is the best way to set yourself up for a good career that allows you to make a difference in the world."
In efforts to increase financial and academic planning, D.C. education leaders took the opportunity to encourage the audience of captivated students to take advantage of the Summer Transitions, DC Tuition Assistance Grant, and Mayor's Scholars Undergraduate programs - postsecondary initiatives of the Office of the State Superintendent of Education (OSSE). Each focuses on offering tangible support that can fill a gap between a student's financial need or understanding of what it takes to be successful on and off campus.
For more information about OSSE, visit osse.dc.gov or follow OSSE on Twitter and Facebook.
Get Top Stories Delivered Weekly
More districtchronicles News Articles
Recent districtchronicles News Articles
Discuss This Article