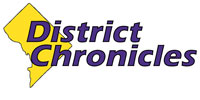 Post Classifieds
Death of reality TV star brings home important point
By Marquesa Ladawn/George Curry Media Columnist 
On May 4, 2016
Yes, I'm addicted to the world of Reality TV. I experience a boat load of emotions with every season. I remember when Blood, Sweat & Heels first premiered on Bravo a couple of years ago, I was excited! Women my age, from my town, living my life, sorta!

Forty-somethings living the Manhattan life, that includes, but is not limited to, opportunity at your fingertips, overwhelm of everything from fashion, to food, to fun; Contacts and connections that one only dreams about. Events, parties and invites that keep you connected to the energy of New York City.

This is what this show focused on, specifically for the Black female, a younger and mostly safer version of "The Real Housewives of Atlanta."

You see as a 40-something living in New York City, you're still trying to figure out what's next. There's a chance you have not met your husband yet. There's a chance you are completely career focused. I told you we were special living in NYC.

Daisy Lewellyn, one of the reality TV stars of "Blood, Sweat and Heels" comes to mind. A kind-hearted and ambitious 30-something, she celebrated every aspect of life. She refused to let any situation or person bring her down. If you haven't heard, she recently died at age of 36.

I remember working and navigating Facebook on a regular day and seeing the news pop on my screen. My eyes begin to water as I remembered how much she fought to stay alive. In season 1 of "Blood, Sweat and Heels," she was the peacemaker who gave everyone a fair shake. She loved exploring life in the city by designing looks for women of every body type. She loved playing with various looks on her own and knew someday love would find her.

But, she never imagined that within a year, after her makeup artist told her that greenness in her eyes needed to be checked out, she would find out she had a rare cancer.

We got a chance to see her navigate season 2 with the confidence of beating this horrible disease. She refused to let it own her or shut down her life. She continued to go to events and support her friends and family. Anytime negativity or sadness showed up, she greeted it with a smile and a mindset for overcoming. I just knew that if anyone could beat this disease, it was Daisy. But even the kind-hearted Daisy lost her battle with cancer.

As a motivational speaker, I travel the country inspiring and reinventing my audiences. In less than 24 hours of learning about Daisy's death, I found myself saying, how dare I complain about anything. I had a presentation coming up and was a bit nervous because of having to master some new material, but I visualized Daisy and her bright attitude. I immediately put on my happy mindset and gave an impressive presentation. In that moment, I committed to live for Daisy and honor her life by kicking any fear in the butt and doing my thing.

You see, the real housewives and the like, are not actors, but real people that, at times, can do crazy things – but we come to care about them and love them like they are our friends and family.

As you end today and begin tomorrow, ask yourself if you are giving your entire self. Ask if you are giving your very best. Ask if you are appreciating every breath you take along with loving the ones around you that shape your day and your life.

From one NYC girl to another ... your life can be as big and as amazing as you dream it. Love you Daisy. Thanks for inspiring me.

Follow Marquesa Ladawn on Twitter @realityshowgirl and subscribe to her podcast at www.RealitytvGirl.com.
Get Top Stories Delivered Weekly
More districtchronicles News Articles
Recent districtchronicles News Articles
Discuss This Article