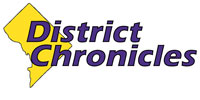 Post Classifieds
Gov. McAuliffe restores voting rights of 206,000 Virginians
Special to the Trice Edney News Wire from the Richmond Free Press
By Jeremy Lazarus
On May 12, 2016
(TriceEdneyWire.com) – David Mosby no longer feels like a second-class citizen.
After years of being barred from the ballot box because of his criminal record, the 46-year-old home improvement contractor is finally able to vote and fully take part in the life of his community.
"I never thought I'd have this opportunity," said the teary-eyed Varina resident, one of more than 200,000 Virginians whose lives have been changed with a stroke of Gov. Terry McAuliffe's pen.
Gov. McAuliffe has gone further than any state chief executive to eliminate the last big barrier to voting in Virginia – a felony conviction.
He signed an order restoring the right to vote to anyone who had completed a prison term as well as any probation or parole requirements as of April 22. The change also allows those formerly incarcerated to serve on a jury or to run for political office.
Even more stunning, the governor made no distinction between those with records for violent crimes such as robbery and rape and those who committed nonviolent offenses such as fraud and illegal drug use.
The policy change represents a victory for the Virginia State Conference of the NAACP and the American Civil Liberties Union of Virginia, which have been urging such action from the past three governors.
Immediately, state Republican leaders charged that Gov. McAuliffe had overstepped his authority and urged him to call a special session of the General Assembly to review his action, a call he rejected.
Yet despite the GOP backlash, the Democratic governor has promised to update the order monthly to include other Virginians who fully complete felony sentences after April 22.
Essentially, Gov. McAuliffe has transformed Virginia from one of the most restrictive states in restoring citizenship rights. A majority of states allow for automatic restoration of rights once a felon completes his or her sentence. Only Florida, Kentucky and Iowa were like Virginia in barring felon voting unless a governor restored rights.
In a state where 307,000 people with felonies are believed to be disenfranchised, according to the Washington-based Sentencing Project, Gov. McAuliffe stated that his order would impact 206,000 people immediately, possibly half being African American.

He has rebuffed a request from the General Assembly to release the names and backgrounds of those whose rights are restored. However, newly appointed Secretary of the Commonwealth Kelly Thomasson has put up a searchable database on her office's website giving individuals the ability to check to see if their rights have been restored.
Should the next Virginia governor rescind the order when he or she takes office in January 2018, state Sen. A. Donald McEachin (D-Henrico), said that Gov. McAuliffe's action could not be reversed for those whose rights he has restored and who now can register and vote for the next president and for others seeking local and state office.
Before signing the order, the governor said his action would help undo the state's long history of trying to prevent African Americans from full participation.
As he and others noted in remarks made on the South Portico of the Virginia Capitol, African Americans did not gain full voting rights until 1965, when Congress passed the federal Voting Rights Act.
Virginia's Constitution has prohibited felons from voting since the Civil War, helping to reduce African-American influence at the polls. Those restrictions were expanded in 1902 as part of an updated state Constitution that included poll taxes and literacy tests that were not eliminated until the passage of the Voting Rights Act.
In researching the provisions, aides to the governor turned up a 1901 quote from a principal author of that Constitution, Lynchburg state Sen. Carter Glass, noting that its voting provision would "eliminate the darkey as a political factor in this [s]tate in less than five years, so that in no single county of the [c]ommonwealth will there be the least concern felt for the complete supremacy of the [W]hite race in the affairs of government."
As Gov. McAuliffe noted, "Too often in both our distant and recent history, politicians have used their authority to restrict people's ability to participate in our democracy," he said.

"Today we are reversing that disturbing trend and restoring the rights of our fellow Virginians who work, raise families and pay taxes in every corner of our Commonwealth."
"This makes me feel so good," said Darlene Jewell, 61, of Richmond, who, for the first time, signed a voter registration application. Her checkered past had ensured she could not vote until now.
Advocates such as Richard Walker, founder and chief executive of Bridging the Gap in Virginia, a felon support and advocacy group, are planning to step up efforts to find people who now qualify to vote.
However, he noted that the governor can only go so far and that his action would not expunge felony convictions, leaving most of the beneficiaries still struggling to find housing or an employer willing to give them a second chance.
Get Top Stories Delivered Weekly
More districtchronicles News Articles
Recent districtchronicles News Articles
Discuss This Article