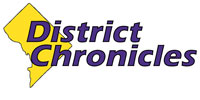 Post Classifieds
Restoring faith in democracy
By Hillary Clinton
On May 12, 2016
​
This past week, President Barack Obama delivered a remarkable commencement address to the students at Howard University. He had a simple message for the graduates – that every shred of progress we hope to make in America depends on voting.

He's right. And we need to make sure that every single eligible citizen can perform their fundamental duty.

Recently, Virginia Gov. Terry McAuliffe took an important step toward justice by restoring the voting rights of 200,000 formerly incarcerated people, who had paid their debts to society.

Unfortunately, this is a rare example of progress at a time when many are finding it harder than ever to exercise their right to have a say in our country's future.

Ever since the Supreme Court struck down a key provision of the Voting Rights Act in 2013, many states that used to face special scrutiny because of their history of racial discrimination have passed new voting restrictions. In the last three years, 17 states have made voting more difficult by requiring proof of citizenship, ending same-day registration and restricting early and mail-in ballots.

One of the worst offenders is North Carolina, where Republican Gov. Pat McCrory signed a bill that does all this and more. It even includes a harsh new voter photo ID requirement. That only serves to create another unnecessary obstacle for low-income voters and communities of color to have their voices heard.

Make no mistake: these kinds of restrictions don't come about by accident. They're a blast from the Jim Crow past, and it's just one of many other examples of a sustained effort to disenfranchise communities of color across the country.

I believe that we should be making it easier to vote – not harder. And there are several steps we should take immediately to restore trust in our democracy.

First, I believe Congress must move quickly to pass legislation to restore the full protections of the Voting Rights Act that American voters need and deserve.

Second, we should implement the recommendations of the bipartisan presidential commission to improve voting. These are commonsense reforms – agreed upon by lawyers from the Obama and Romney campaigns – that include expanding early, absentee, and mail voting, and ensuring no one has to wait more than 30 minutes to cast their ballot.

Third, we should set a new national standard of at least 20 days of early in-person voting everywhere – including on weekends and evenings. Early voting isn't just convenient; it's also more secure, more reliable and more affordable than absentee voting.

And finally, I'm calling for universal, automatic voter registration. I believe the ability to vote should be our society's default setting. That means every citizen should be automatically registered to vote when they turn 18 unless they actively choose to opt out.

But enfranchisement isn't solely a matter of individual rights. In the case of our nation's capital, we have an entire populace that is routinely denied a voice in its own democracy.

Washington, D.C., is home to nearly 700,000 Americans – more than the entire population of several states. Washingtonians serve in the military, serve on juries and pay taxes just like everyone else. And yet they don't even have a vote in Congress.

Hard as it is to believe, America is the only democracy on the planet that treats the residents of the capital this way.

Lacking representatives with voting power, the District of Columbia is often neglected when it comes to federal appropriations. Many of the District's decisions are also at the mercy of right-wing ideologues in Congress, and as you can imagine, they don't show very much of it. Everything from commonsense gun laws to providing women's health care and efforts to cut down on drug abuse has been halted by Republicans, who claim the District is an exception to their long-held notion that communities ought to be able to govern themselves.

Solidarity is no longer enough. We need a solution.

That's why, as president, I will be a vocal champion for D.C. statehood.

Washingtonians are Americans, too, and it's time they had a say in their own status.

Of course, it comes as little surprise that Donald Trump hasn't given this issue much thought. Just recently he said that while he hadn't fully decided on a position yet, "statehood is a tough thing" for Washington, D.C.

Well, I think what's been tough for the District is having virtually no say in its own affairs for decades. And by fighting to bring about the creation of a 51st state, I believe we can break down a barrier that's stood in the way of progress for far too long and give more Americans a say in America.
Get Top Stories Delivered Weekly
More districtchronicles News Articles
Recent districtchronicles News Articles
Discuss This Article