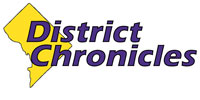 Post Classifieds
With voting rights restoration, Richmond ex-con running for mayor
By Hazel Trice Edney
On May 24, 2016
(TriceEdneyWire.com) – Former Richmond, Virginia, City Councilman Henry W. "Chuck" Richardson, who resigned from office after a non-violent drug conviction in 1995, was among the more than 200,000 people with felony records whose voting rights were recently restored by Virginia Gov. Terry McAuliffe.
Richardson, who served an 18-year prison sentence after his election as a member of the city's first majority Black City Council in 1977, said he is not only elated that his voting rights have been restored, but he is also circulating petitions to run to become the city's next mayor.
"I have now secured my declaration of candidacy form, filled out the necessary papers and I am getting petitions signed in order to qualify my candidacy for the mayorship of Richmond," said Richardson in an interview last week.
Richardson is aware of an obscure Virginia law that prohibits anyone convicted of a drug offense from running for public office. However, the governor's letter appears to give him explicit rights to run.
The May 12, letter to Richardson from McAuliffe says the governor has "restored his rights to vote, hold public office, serve on a jury and to be a notary public." The restoration was effective April 22, 2016, according to the letter.
Richmond lawyer Vinceretta Taylor Chiles, who assisted Richardson and others in the voting rights restoration process, said while she has not researched the state law as it pertains to Richardson, the law appears to be problematic given the governor's sweeping restorations.
She described the law as "arbitrary and capricious" due to singling out drug offenders and asked, "You mean you can molest a child or sexually offend a child or get convicted of contributing to the delinquency of a minor and that does not disqualify you from running for public office? My goodness."
Richardson would enter a crowded non-partisan field of at least 17 other candidates for the position. The filing deadline is June 14.
"I had no intentions of running for the mayorship. But it seems to me that providence has come to bear on my life," said Richardson. "In the moment of the mayorship's ripeness, the governor has given me my rights back and, to me, it's a message to say 'run Chuck run.' The events are in the saddle and they ride mankind."
Richardson, 68, said among his most prevalent issues will be running "an open government" with transparency so that citizens will always know what's going on; a citizen-friendly City Hall; creating a city jobs bank and strengthening the city school budget process. He said he will also dispense of "wasteful spending" such as the heavy security detail employed by current Mayor Dwight Jones.
As the historically longest serving member of the Richmond City Council, Richardson said his legacy was always one "to get the job done. I worked hard and I was known to get the job done."
Richardson credits his history as a decorated Marine machine gunner for his ability to work hard and remain focused on the tasks required by public service. However, it was also during his tour of Vietnam that he became addicted to heroin; an addiction that followed him on to City Council. Nevertheless, he continued to be re-elected even four times after he was convicted of possession of dangerous drugs – cocaine and heroin – in 1988.
He ultimately resigned in 1995 after delivering a small amount of cocaine to a personal friend, who turned out to be a police informant. When the informant gave him what Richardson said was a simple reimbursement, he was arrested and charged with cocaine dealing.
Twenty-one years later, Richardson says he is completely free of drugs and – with rights restored – is looking forward to the mayoral campaign.
Get Top Stories Delivered Weekly
More districtchronicles News Articles
Recent districtchronicles News Articles
Discuss This Article