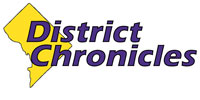 Post Classifieds
Ten DCPS girls return from Croatia with Step Afrika! with new perspective
On May 26, 2016
At the near close of their semester, 10 high school students from District of Columbia Public Schools (DCPS) traveled to Zagreb, Croatia, for a week-long international youth camp, thanks to a partnership between Step Afrika! and the school district.
Ten young women representing nine schools from throughout the District were chosen to participate April 21-28 in the International Youth Exchange where 100 students from Russia, Slovenia, Montenegro and other nearby European countries learned Step Afrika!'s core values — discipline, teamwork, and commitment — in addition to the art of stepping and working together to choreograph and perform a step show.
"We were first introduced to these 10 young ladies who were shy, anxious and nervous about the experience," said Step Afrika! Founder and Executive Director C. Brian Williams. "By the second day, all 10 girls had already transformed into world travelers, ready to meet the next challenge and experience the next adventure in Croatia. That's what this program and partnership is all about – changing the way youth look at their lives and the possibilities. And they're endless!"
Chancellor Kaya Henderson last year announced the partnership with Step Afrika!, the first professional dance company dedicated to the tradition of stepping, and one of the leading African-American dance companies in the U.S. During its pilot year in 2015, the partnership sent 10 young men representing six schools from across the District.
The students selected to participate in the youth exchange program were nominated by their school principals. Each student has a GPA of 3.0 or higher and completed a competitive application process that included a series of essay questions highlighting their commitment to excellence in school and passion for discovering new cultures. Students participating in the program will represent the following schools:
Eastern Senior High School
Ballou Senior High School
School Without Walls
Paul Laurence Dunbar Senior High School
Phelps ACE High School
Benjamin Banneker Academic High School
Luke C. Moore High School
Columbia Heights Educational Campus
Cardozo Educational Campus
"Step Afrika! opened the world's eyes to the beauty and power of step, and I know this new partnership will do the same and more for our DCPS student cultural ambassadors," said Chancellor Henderson at the start of the program.
This year makes the fourth that Step Afrika! has traveled to Croatia for the International Youth Exchange program. The DCPS students were the second group of student representatives from the United States to participate.
The girls documented their journey in personal journals and through social media. Now that they are back, they are creating a presentation to showcase their experience and share it with their peers. The students will also participate in Step Afrika!'s June 9, gala and performance in NoMa at Dock 5 at Union Market in Washington, D.C.
Step Afrika! just completed a performance tour in the Middle East and ended a successful winter season having stepped for the President and First Lady and numerous attendees during the White House Black History Month celebration which garnered much acclaim.
For more information about Step Afrika!, visit stepafrika.org.
Get Top Stories Delivered Weekly
More districtchronicles News Articles
Recent districtchronicles News Articles
Discuss This Article