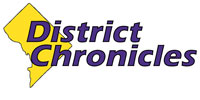 Post Classifieds
Norton looks to Senate, President Obama to stop budget autonomy repeal bill
On May 26, 2016
In 2013, D.C. voters passed a referendum authorizing the city to spend its tax dollars without Congressional approval. On Wednesday, House Republicans passed a bill to repeal the referendum that granted the District budget autonomy. The Republicans also rejected Delegate Eleanor Holmes Norton's amendment to grant D.C. budget autonomy through an act of Congress.
The Senate has yet to act and President Obama has vowed to veto the Republican bill, if it makes it to his desk.
"The party-line vote refusing to make my amendment to grant D.C. budget autonomy by an act of Congress in order was never in doubt," said Norton. "This week, Republicans have used every tool they have to block D.C. from implementing its budget autonomy referendum – a stand-alone repeal bill set to go to the House floor tomorrow, and a rider repealing the referendum included in the House's D.C. appropriations bill, which will be marked up in subcommittee tomorrow. However, we have already been fighting hard in the Senate, where we believe there are not enough votes to repeal the District's budget autonomy referendum."
Norton expressed her deep appreciation to Rep. Darrell Issa (R-CA), the former chairman of the House Oversight and Government Reform Committee (OGR), for offering an amendment at the Rules Committee hearing to permanently exempt the District from shutdowns. Norton has been able to get D.C. exempt from shutdowns for three straight years in appropriations bills, but noted that the Issa amendment would have even greater positive implications for the District on Wall Street, as well as ensuring its daily operations would never be interrupted.
She noted that Rep. Issa had worked hard for budget autonomy when he was chairman of OGR, and that "the city still has friends in high places." Rules Committee Chairman Pete Sessions (R-TX) said Issa's amendment would not be made in order because it was not germane to the bill.
Get Top Stories Delivered Weekly
More districtchronicles News Articles
Recent districtchronicles News Articles
Discuss This Article