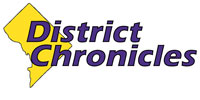 Post Classifieds
Politicians ignore Reason Rally at their peril
By Tom Krattenmaker/Religion News Service
On June 3, 2016
(RNS) A predicted 30,000 people are assembling in Washington Saturday, June 4, to proclaim their voting power in a high-stakes election year. They're part of a population riding a demographic tsunami that has made it, by some reckonings, the largest "religious" category in the country. You'd expect politicians to be salivating for the chance to address this crowd.
But not this rally. Apparently the secular voting bloc, if we can call it a "bloc," is far too toxic to attract any big-name officeholders or candidates.
At Reason Rally 2016, not a single U.S. senator or Senate candidate is speaking. Trump? Clinton? Sanders? Forget about it. Two Congress members, a congressional candidate and a D.C. council member are, at this point, the only politicians lined up to address the gathering of atheists, agnostics and humanists.
The situation demonstrates how far national politics have fallen behind demographics, and how far the nascent secular movement has to go before it wields political clout commensurate with its numbers.
"The secular demographic is still seen as anathema to politicians," said Lyz Liddell, executive director of Reason Rally. "It's certainly disappointing to approach potential speakers and be told 'no' because the individual doesn't want to be associated with our group. We're pushed out of a number of places — political coalitions, interfaith collaborations, service projects — because of 'the optics.' But it's not limited to just politics. The ingrained anti-atheist sentiment in the country is still very strong."
To put the picture in perspective, remember that the surge in nonreligious Americans is a new phenomenon. As recently as 2007, polling data from Pew showed that the religiously unaffiliated constituted 16 percent of the American population. The cohort had a bad reputation and little organizational structure.
The good news for the nascent secular movement is how much has changed. The number of nonreligious Americans shot up to 23 percent of the population in Pew's 2014 survey. It's probably even higher now. If you separate the evangelical demographic by race — which we ought to do, given the very different cultural and political dynamics of black and white evangelicals — the nonreligious outnumber every religious category.
Yet as Religion News Service has reported, all those religion-less people have yet to coalesce into institutions and structures that can yield a cohesive vote.
"We aren't in church every Sunday and we don't have a unifying guiding doctrine," Liddell noted.
On the bright side, though, "the number of community groups for secular Americans is growing hugely," Liddell added. Doctrine or not, those gathering do have common values, she adds. "Events like Reason Rally show that we are growing our presence."
That's more than spin. A glass-half-full assessment of the secular movement shows a level of progress and momentum that promises to make it harder for politicians to ignore.
If the crowd materializes Saturday in the predicted numbers, it will be a large increase over the turnout for the last iteration of the event, in 2012. That's a sign of something. So is the fact that over his seven-plus years in office, President Obama — more than his predecessors — has often signaled respect for secular people, as if to nudge his fellow Christians to accept these people as equally American.
The religiously unaffiliated — the so-called nones — are clearly becoming "somethings" a decade after the barrage of best-selling atheist manifestos that loudly announced this population to the largely Christian public, rubbing a lot of people the wrong way.
And let's face it. It's not as though religious Americans are having their way with this looming election. This is true even with the vaunted evangelicals, who have been fawned over by one party's candidates for more than three decades, but who face a Hobson's choice this year between the deeply impious Donald Trump and whoever the reviled Democrats put forward.
It's a poor testament to our politicians' character that no Senate or presidential candidate has the temerity to speak at Reason Rally 2016. Ultimately, it's not fairness or politicians' character that will make the secular movement a player in national politics. It will be the proven ability of this loose coalition of atheist and humanist organizations to deliver what politicians ultimately care about — votes and organized pressure.
The building is underway. It has a long way to go.
(Tom Krattenmaker is a writer specializing in religion in public life and communications director at Yale Divinity School. He is the author of the forthcoming "Confessions of a Secular Jesus Follower")
Get Top Stories Delivered Weekly
More districtchronicles News Articles
Recent districtchronicles News Articles
Discuss This Article