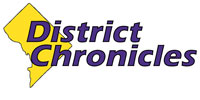 Post Classifieds
Montgomery County to hold 6th Annual Senior Safety Forum
On June 9, 2016
On Tuesday, June 14, Montgomery County will host its 6th Annual World Elder Abuse Awareness Day Senior Safety forum from 10 a.m. until 1 p.m. at the Holiday Park Senior Center located at 3950 Ferrara Drive in Wheaton. Seniors, their families and others who care for seniors are invited to attend.
Activities are planned to raise awareness of not only general senior safety, but also elder abuse, neglect and exploitation, and will emphasize the safe use of technology.
Abuse of the elderly is a growing and increasingly recognized phenomenon both nationally and in Montgomery County, especially as baby boomers age and the number of senior citizens increases. The continuing advancements in technology and the vast and varied services it provides is certainly beneficial, but can also be a source of victimization for elders if they are not made aware of online scams and how to safeguard against other types of cyber crime.
Recent research, reported by the Alliance on Aging and other senior service organizations, found that one in 10 older Americans are abused each year and that for every case reported there are approximately 23.5 that go unreported. Only one in 44 cases of financial abuse is reported. In Montgomery County, the 60-and-over population exceeds 182,627 or about 18.5 percent of the county's total population of over one million, and is increasing faster than the total population.
The event agenda includes speakers and exhibitors on topics including: elder abuse, scam and fraud exploitation, emergency preparedness, home safety, and resources in Montgomery County for seniors.
Safe Use of Technology workshops include: An Overview of the Safe Use of Technology, Senior Surfing the Net Perils and Benefits, Facebooking Dos and Don'ts, Use of Skype, IT Passwords, the Maryland Relay System, How to Register Online for Alert Montgomery, Online Banking Scams, and the Vast Technology Features Available at County Public Libraries.
The event also includes door prizes, free bagged lunches while supplies last, free blood pressure checks, police and fire/rescue demonstrations, and musical entertainment.
Montgomery County officials, including the State's Attorney, County Council members, the Police Chief, Fire Chief and representatives from the Department of Health and Human Services are scheduled to attend. Liz Loewy, EverSafe General Counsel and Former Chief of the Manhattan Elder Abuse Unit, will deliver the keynote address.
For information about County Senior Services, visit www.montgomerycountymd.gov/hhs/ and click on Older Adult Services.
Get Top Stories Delivered Weekly
More districtchronicles News Articles
Recent districtchronicles News Articles
Discuss This Article