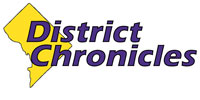 Post Classifieds
Prince George's County Council Member to host countywide dialogue on fatherhood
On June 14, 2016
Prince George's County Council Member Mel Franklin (D) – District 9, will host "A Dialogue on Fatherhood," a workshop led by nationally-renowned panelists, on Saturday during Father's Day weekend from 1-4 p.m., at Reid Temple A.M.E. Church located at 11400 Glenn Dale Blvd, Glenn Dale, Maryland.
Franklin established a strategic partnership between Prince George's County and the National Fatherhood Initiative in 20 to address the pressing need to strengthen fatherhood across the community. Since that time, the county has completed the first two phases of the initiative which included the development of a needs and assets assessment of the county's ability to promote responsible fatherhood; conduct a leadership summit on fatherhood; and develop a preliminary capacity building action plan.
The Dialogue on Fatherhood is an extension of the Fatherhood Initiative, responding to concerns identified in the program's initial phase, said Franklin.
"The workshop is designed to advance the conversation on fatherhood within Prince George's County, and provide tools and resources to support the role of the father within the family," he said. "The Dialogue on Fatherhood will be a great opportunity for county residents and our nationally-renowned panelists to tackle the seriousness of fatherhood absence and help our communities to build stronger families."
One moderator includes Etan Thomas, who authored "Fatherhood: Rising to the Ultimate Challenge," in which the former NBA Washington Wizard, a leading participant in Presidents Obama's Fatherhood Initiative, published poet, children's advocate, and dad, speaks from his heart on fathers being there for their children.
Also moderating will be Johnny Parker, an executive coach, leadership consultant, and author of "Renovating Your Marriage Room by Room," "Faith Like a Child," and "Exceptional Living: 31 Exercises for Enriching Your Life, Work and Relationships," who has conducted personal and professional development seminars in corporate and faith-based settings for nearly 25 years.
Workshop panelists include: Lonise Bias, internationally-known motivational speaker and orator and mother of the late Maryland Terps legend Len Bias; Gene Elliott Thornton Jr., better known as No Malice and Hip-Hop recording artist; Robert Griffin, II, father of Cleveland Browns quarterback Robert Griffin, III; and former NBA player Michael Sweetney, Oxon Hill High School, Georgetown University, and former NBA player, who now plays in Uruguay.
Panelists will lead a dialogue about the importance of the leadership role men have with their families, empower effective communication between men and their children, and highlight assistance available to Prince George's County families seeking improved relationships between fathers and their children.
Community partners for the event include the National Fatherhood Initiative, the Etan Thomas Foundation, CRW & Associates, Reid Temple AME Church, and My Brother's Keeper.
Get Top Stories Delivered Weekly
More districtchronicles News Articles
Recent districtchronicles News Articles
Discuss This Article