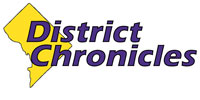 Post Classifieds
An early Father's Day present from children of dads in prison
Special to the Trice Edney News Wire from NorthStarNewsToday.com
By Frederick H. Lowe
On June 16, 2016
(TriceEdneyWire.com) Gary, Ind. – Illinois Congressman Danny Davis last week took 60 children to the Sheridan Correctional Center, a minimum security adult-male prison known for treatment of substance abuse problems, so they could celebrate Father's Day early with their dads.
Two busloads of children, parents and chaperones traveled from Chicago to Sheridan Correctional Center, which is based in Sheridan, Illinois, an hour and a half southwest of Chicago. Including the parents and chaperones, 117 people made the trip.
"It's being called a Father's Day celebration even though it is being held in advance of Father's Day," said Davis.

The children were allowed to spend two hours alone with their fathers followed by a picnic. Davis started the program three years ago because, "Black children don't have much interaction with their fathers." The Illinois Department of Corrections approved the visit.
Davis announced the visit on Friday during the National Black Political Convention held June 9 and 10 in the Genesis Convention Center. Several panels at the sparsely attended convention discussed mass incarceration of Black men and the increased imprisonment of Black women. Sixty-three percent of Sheridan's inmates are African American, 24 percent are White and 13 percent are Hispanic.
Davis and U.S. Rep. Andre Carson (D., Ind.) are cosponsors of the Julia Carson Responsible Fatherhood and Healthy Families Act of 2015, which also addresses examining the important role fathers play in their children's lives.
"Children with positive relationships with fathers – even if they do not live in the same household – have stronger mental health, economic success and academic achievement and lower rates of youth delinquency, school drop-out and teen pregnancy," the bill states. It is in the U.S. House of Representatives Subcommittee on Human Resources.
The legislation is named in honor of the late Congresswoman Julia Carson, Andre Carson's mother. She died in 2007.
Davis also is sponsoring another event to show the importance of African-American fathers. On June 17, Davis will host a Fatherhood Forum from 6-8 p.m. at Christ the King Jesuit College Preparatory High School, 5088 W. Jackson in Chicago.
Get Top Stories Delivered Weekly
More districtchronicles News Articles
Recent districtchronicles News Articles
Discuss This Article