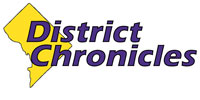 Post Classifieds
Judge Roger Gregory makes history – again
Special to the Trice Edney News Wire from the Richmond Free Press
By Jeremy M. Lazarus
On July 21, 2016
(TriceEdneyWire.com) – The son of humble tobacco factory worker has reached a new pinnacle in his legal career. On July 9, Judge Roger L. Gregory became the chief judge of the powerful 4th U.S. Circuit Court of Appeals in Richmond, Virginia.
As he modestly describes his new role among the court's 15 judges and two senior judges, he will be "first among equals."
Known as easygoing and personable, Judge Gregory has made history again by ascending to the appellate court's top post – which he will hold for seven years. He took his new role just a week before celebrating his 63rd birthday on July 17.

Just as he was the first African American to join the once all-White court in 2000, he will be the first African American to be the chief judge since the court's founding 125 years ago in 1891.

In his new role, Judge Gregory will take on more administrative duties in the circuit that includes Virginia and four other states – Maryland, North Carolina, South Carolina and West Virginia. He said his goal is "to help the court run as smoothly as possible for my good, dear colleagues."
Along with the new title, Judge Gregory will chair the circuit's judicial council and oversee the 160 judges in the five states who serve in the lower courts, including the districts courts and bankruptcy courts.
He also will represent the 4th Circuit on the Judicial Conference of the United States, which the U.S. Supreme Court's chief justice heads and sets policies and rules for the federal judiciary.

Judge Gregory will get an extra law clerk to assist him, but he said the title does not include additional salary, now $213,300 a year for an appeals court.
He also wants to do more to educate the public about the history and role of the court and the importance of the role played by courts, perhaps the element of government "the public knows the least about."
He envisions creating space in the court's home base in the Lewis F. Powell Jr. Courthouse at 10th and Main streets downtown where people can come and learn about the court, its judges and the important cases it has dealt with. He also wants to do more to call attention to the court's annual ceremony at which immigrants become American citizens.
His rise to chief judge is part of the change to the court that hears appeals from the nine federal district courts within the 4th Circuit.
Once considered the nation's most conservative court, the 4th Circuit has long since shed the label since the arrival of Judge Gregory and 10 other judges in the years since 2000, seven of whom are appointees of President Obama. The newer members include the court's first Latino, Judge Albert Diaz, and the first African-American woman to serve on the court, Judge Allyson K. Duncan.
Get Top Stories Delivered Weekly
More districtchronicles News Articles
Recent districtchronicles News Articles
Discuss This Article