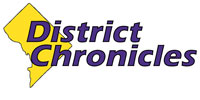 Post Classifieds
Black Republicans Struggle to Stand by Trump
By Tatyana Hopkins/Michigan Chronicle
On July 22, 2016
CLEVELAND – Public relations expert Deana Bass came out of the closet in college. Many of her friends at Ohio University, where she was a student, did not know she was hiding a secret.
"It was almost 20 years ago," Bass said as she told her coming-out story to a crowded room at a downtown banquet hall here. "I think only a few people knew."
"All of my friends were so excited that Hillary Clinton was coming to campus," she said. "No one knew I was a Republican."
Bass told her story while moderating the "What Women Want" panel, which her communications firm held during the Republican National Convention in Cleveland to address issues concerning conservative women.
"I came out of the closet as a film student at OU," she said.
Today, she is a proud Republican, partner at the all-female, Washington-based communications firm Bass Public Affairs and the national press secretary for former presidential candidate Ben Carson.
Bass is one of the small, but fervent number of black Republicans here at the convention and few African Americans willing to support Republican presidential nominee Donald Trump, who has been accused by members of his own party of making racist statements.
A July poll from the Pew Research Center reported that only 7 percent of registered African-American voters would rather vote for Trump over the Democratic presumptive nominee Hillary Clinton.
"I've considered [Trump] to be offensive and vulgar at times," Texas U.S. Representative candidate Lori Bartley said during an interview at the convention. "What we need to do is get over our fear as a party, as an individual, get over our fear of Trump and try something different, because what we've been doing in America, it hasn't been working."
Bartley said there is no such thing as "becoming a Republican."
"The moment that you accept Jesus Christ into your heart, that automatically makes you Republican, because the Republican platform is the platform of Judeo-Christianity and those values," she said.
"The Republican party is truly going to set you free. Believe in the Republican Party platform; vote for it."
Some black Republicans at the convention, like their white counterparts, said they are attracted to the party's philosophy.
So, despite Trump's bigoted statements about Mexicans and Muslims that have kept many prominent Republicans away from the convention, many black Republicans are swallowing hard and supporting their presidential nominee.
One of those is Eugene Craig III, 3rd Vice Chair at the Maryland Republican Party.
"I am 100 percent unapologetically black and 100 percent unapologetically Republican," Craig said. "I'm supporting the Republican nominee. As the vice chair of the Maryland Republican Party, I'm obliged to support our candidates."
Craig said he believes the Republican ideals of small government could help African Americans by stimulating business development and reducing government's abuses of power, such as excessive fining and permit requirements, Craig said.
Elbert Lee Guillory, 72, is a former member of the Louisiana State Senate and well-known among black Republican circles. He represented several rural precincts from May 2, 2009, until January 2016. Guillory argues that more black people should consider the Republican Party.
"With respect to black folks, we cannot afford to put all of our eggs in one basket as we have been doing," Guillory said. "Democrats don't respond to our needs and interests, because we are in their hip pocket. They know that we are going to vote for them no matter what they do."
He said the Republican platform has several causes that will have a positive influence on African-American communities.
Republicans are committed to creating jobs, supporting school voucher programs that allow students in failing schools to attend schools of their choice, and attacking the roots of violence that can affect the black community, he said.
Get Top Stories Delivered Weekly
More districtchronicles News Articles
Recent districtchronicles News Articles
Discuss This Article