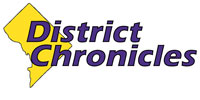 Post Classifieds
The word of the week in Philadelphia: love
By Jay Barth/Religion News Service
On August 2, 2016
It was obvious Democrats would employ the imagery of Philadelphia as the cradle of American democracy across this week's Democratic National Convention.
Those taking the microphone at the convention have indeed provided historical allusions reminiscent of the "Bicentennial Minutes" omnipresent on TV in my youth.
But, unexpectedly, "The City of Brotherly Love" has been even more relevant to the rhetoric of the DNC.
We should have known something was up when the preprinted signs sitting on the delegates' chairs when they arrived on the floor of the convention in Philadelphia on Monday afternoon stated "Love trumps hate." What's been fascinating, is that – rather than a throwaway line on the first day of the convention – the theme has persisted.
Aside from "Stronger Together," the official slogan of the campaign, the mantra "Love trumps hate" is the most used phrase of the convention. Hillary Clinton repeated the motto in her acceptance speech Thursday.
But, conversations about "love" during the DNC have not stopped at that simple phrase; it has been discussed thoughtfully – in varied ways – across the speeches on each day of the convention.
As someone who's been active in politics for over 30 years, it's still jolting to hear. That's because "love" has been taboo in Democratic Party politics for so long.
There was a time when Democrats talked about love among citizens a good deal. Lyndon Johnson said in his famous voting rights speech following the events at Selma: "I want to be the president who helped to end hatred among his fellow men and who promoted love among the people of all races, all regions and all parties."
And, in his infamous 1964 "Daisy" ad, Johnson's voice is heard over the image of the nuclear blast slightly misquoting W.H. Auden: "We must love each other, or we must die."
The post-McGovern Democrats, however, consciously rebranded the party in a manner to contrast with the "peace, love, and understanding" imagery that came to define liberalism in the late 1960s and early 1970s.
In recent decades, a party obsessed with showing its toughness – on foreign policy, on criminal justice, and on fiscal constraint – has avoided using such a "soft" word. While they might have denied it, in that era Democrats followed the advice of conservative commentator George Will: "Democrats who are serious about the candidates' electability understand that seriousness requires a retreat from the feminization of politics."
The so-called "mommy party" tried so hard to run away from that stereotype that it banished a word associated with "mommies" from its lexicon.
But "love" is back. Last week, the way in which love was discussed varied: some explicitly religious, some a secularized version of Martin Luther King Jr.'s "beloved community," and some a vaguer sense that love can overwhelm the darker forces in American life. But, it's been everywhere.
Vice presidential nominee Tim Kaine was the Democratic speaker who was most explicitly religious in his usage. Kaine, who is quite comfortable talking about his faith and its role in driving him to public service, alluded to the Bible in his convention address: "My journey has convinced me that God has created a rich tapestry in this country – an incredible cultural diversity that succeeds when we embrace everyone in love and battle back against the dark forces of division. We're all neighbors and we must love our neighbors as ourselves."
Others referenced a more secular version of the "beloved community" in their description of what should be the goals of the nation.
In her extraordinary address, first lady Michelle Obama said: "I want a president who will teach our children that everyone in this country matters – a president who truly believes in the vision that our founders put forth all those years ago: That we are all created equal, each a beloved part of the great American story."
And, in the speech that most thoughtfully grappled with the role of love in American society, New Jersey Sen. Cory Booker argued:
"Patriotism is love of country. But you can't love your country without loving your countrymen and countrywomen … We are called to be a nation of love. Love recognizes that we need each other that we as a nation are better together, that when we are divided we are weak, we decline, yet when we are united we are strong – invincible!"
For Booker, love is society's empowering glue.
Jay Barth is M.E. & Ima Graves Peace Distinguished Professor of Politics at Hendrix College in Conway, Arkansas.
Get Top Stories Delivered Weekly
More districtchronicles News Articles
Recent districtchronicles News Articles
Discuss This Article