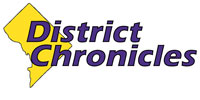 Post Classifieds
Mass incarceration accelerating spread of HIV among Blacks
By George E. Curry/Editor-in-Chief/EmergeNewsOnline.com
On August 2, 2016
URBAN, South Africa – Efforts to halt the spread of HIV among African Americans, the most impacted group in the United States, will not be successful without reducing the rate of mass incarceration among people of color, according to research made public last week at the International AIDS Conference.
One of the researchers, Dr. Chris Beyrer, president of the International AIDS Society and Desmond M. Tutu Professor of Public Health and Human Rights at Johns Hopkins University in Baltimore, told a media delegation from the Black AIDS Institute:
"Black women in the U.S., if you look at their individual level of sexual risk, are less risky than Latino or even White women. And they have more than five times the infection rate. So how do we understand that? It turns out that the mass incarceration of African-American men is fundamental this and it's because of this problem of lack of access to care."
The United States warehouses more prisoners than any country in the world, with 5 percent of the world's population and 25 percent of its prisoners. There are 2.2 million people in U.S. prisons and jails – a 500 percent increase over the past 40 years.
"Today, people of color make up 37 [percent] of the U.S. population but 67 [percent] of the prison population," according to The Sentencing Project, a Washington, D.C.-based organization that works for a fair and effective U.S. criminal justice system by promoting reforms in sentencing policy, addressing unjust racial disparities and practices, and advocating for alternatives to incarceration.
"Overall, African Americans are more likely than [W]hite Americans to be arrested; once arrested, they are more likely to be convicted; and once convicted, they are more likely to face stiff sentences. Black men are six times as likely to be incarcerated as [W]hite men and Hispanic men are more than twice as likely to be incarcerated as non-Hispanic [W]hite men."
At a news conference Tuesday, Dr. Beyrer said Blacks and Whites in the U.S. have similar drug use rates, but Blacks are incarcerated more because of discriminatory policies.
The so-called "War on Drugs" is a case in point.
For more than two decades, the ratio of the amount of powder cocaine needed to trigger the same federal prison sentence as an amount of crack cocaine was 100:1, even though there is no pharmacological difference between crack and powder cocaine.
Because African Americans make up 80 percent of those sentenced under federal crack cocaine laws each year, the disparity in sentencing laws led to harsher sentences for Blacks than those for Whites possessing powder cocaine.
"Furthermore, harsher sentencing laws such as mandatory minimums keep drug offenders in prison for longer periods of time," The Sentencing Project stated. "In 1986, released drug offenders had spent an average of 22 months in federal prison. By 2004, federal drug offenders were expected to serve almost three times that length: 62 months in prison."
The Fair Sentencing Act of 2010 reduced the crack/cocaine sentencing disparity to 18:1, but that was not applied retroactively.
Black women are the fastest growing segment of the prison population.
"We did this assessment worldwide, there are about 700,000 women worldwide in prisons; 205,000 are Americans. So no one is incarcerating women more than the U.S. and that is hugely disproportionately women of color," said Dr. Beyrer, co-chair of the 2016 International AIDS Conference.
Black women are imprisoned more than twice the rate of White women, 109 per 100,000, compared to 53 per 100,000 for White women. Latina women are locked up at a rate of 64 per 100,000.
For men, the gap is even wider, with White men imprisoned at a rate of 465 per 100,000 and African-American men an astounding 2,724 per 100,000, according to the Sentencing Project. The Latino men rate is 1,091 per 100,000.
Dr. Adaora A. Adimora, a professor at the University of North Carolina School of Medicine and two other researchers, Victor J. Schoenbach and Irene A. Doherty, wrote in the Journal of Acquired Immune Deficiency Syndromes: "Recent studies suggest that there are differences between [B]lacks and [W] hites in types of sexual network mixing patterns and prevalence of concurrency ... African Americans with only one partner in the past year are 5 times as likely as whites to choose sexual partners from the core (persons who have had at least 4 partners in the past year)."
In addition, they said, "STIs tend to remain within the black population because their partner choices are more segregated; blacks more often than other ethnic/racial groups tend to choose African Americans as partners."
In an interview, Olive Shisana, local co-chair of the International AIDS convention, said women who are serially monogamous are at great risk.
"It becomes very clear as we look at the data that when you are single you are likely to have one monogamous partner for some time, then when that relationship ends, you start another relationship," she explained. "The number of relationships that you've had determines the lifetime risk of you getting infected with HIV, so your probability is much higher as you change partners over time. I'm not even talking about multiple sexual partnerships, I'm just talking about serial monogamy – being single and have successive different relationships. It does put one at risk of HIV."
Get Top Stories Delivered Weekly
More districtchronicles News Articles
Recent districtchronicles News Articles
Discuss This Article