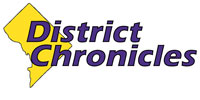 Post Classifieds
The country mourns loss of George Curry, Black press icon
On August 24, 2016
Last weekend, the nation lost civil rights activist, pioneer for Black journalists, and hero George E. Curry. The Multicultural Media, Telecom and Internet Council (MMTC), its leaders, and staff are deeply saddened by the sudden passing of this MMTC partner and dear friend.
The District Chronicles shares this sentiment.
George dedicated decades of his life to amplifying the voices of African Americans and their issues through his work with the National Newspaper Publishers Association (NNPA), a federation of over 200 African American Newspapers; BlackpressUSA.com, the website that showcases the work of NNPA's members; George Curry Media, the company he created to facilitate better advertising opportunities for African-American-owned and other publications; his role as the first African-American president of the American Society of Magazine Editors; and most recently his efforts to revitalize Emerge, the award-winning magazine that served as the unapologetically honest political voice of African Americans.
MMTC recognized George for his invaluable work in January, inducting him into the MMTC Hall of Fame, one of the organization's highest honors. During his induction, MMTC President and CEO Kim Keenan delivered the following high praises for George's impact on Black America: "He is a legend in media. He is an amazing storyteller of what is happening in our America. From his unique vantage point, he shapes the stories of our times in a way that leaves us forever enriched."
MMTC's leaders each delivered statements on his untimely passing:
"We have lost one of the greatest journalists of our time. George Curry was an icon whose courage set a precedent for elevating stories that needed to be told. His story will not go untold," stated Kim Keenan. "I am grateful that George thought enough of me to mentor me through a number of columns, including a recent column about the Black Female West Point Cadets. It was an honor to be asked and to accept his invitation to join the board for the new Emerge. George's love for the written word was contagious. He taught me that it was a rare privilege to educate and inform not just our communities, but the world, with truth. He was 'straight, no chaser,' and he made everyone better because of it."
"George and I were colleagues when Emerge was owned by BET, and I was thrilled to support his recent plan to 'bring Emerge back.' Emerge was George's passion, and he deeply believed that he was to Emerge what W.E.B. Du Bois was to the NAACP's Crisis Magazine, embracing their respective roles of 'speaking truth to power,'" stated MMTC Vice President and COO Maurita Coley. "The best way we can support George's legacy is to continue to support all that he and Emerge stood for: truth."
"Many naysayers have insisted that black media has been waning. Not George Curry. As a household name and unselfish contributor to journalism, he worked tirelessly to change that paradigm by ensuring that the African American narrative always had a seat at the table," stated MMTC Vice President and Chief Research and policy officer Nicol Turner-Lee. "He will be sorely missed."
On the night he was inducted into MMTC's Hall of Fame, George delivered impassioned remarks on his dedication to continue to advocate on behalf of African Americans, and on his commitment to working with MMTC.
"This is the first award I've received that I consider an award in advance," he stated. "[This award is] in advance of the work that we're going to continue to do together because we have a long way to go. All the fights that we thought we had won, we have to fight for them all over again. Whether it's affirmative action, the Voting Rights Act, or access to the media, I'll be right there with you. We're in this to win, and we'll be fighting together."
Get Top Stories Delivered Weekly
More districtchronicles News Articles
Recent districtchronicles News Articles
Discuss This Article