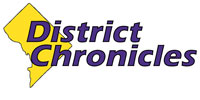 Post Classifieds
The corruption behind corruption
By DeAngelo Starnes, Urban News Service
On August 24, 2016
The recent conviction of U.S. Representative Chaka Fattah for RICO, conspiracy, bribery and fraud added fuel to the "get money out of politics" sentiment driving many voters to the polls this election year.
But the Philadelphia Democrat's conviction on all 22 graft charges – and a stream of similar allegations against other politicians – reflects a much greater problem: the campaign system itself is rife with trouble waiting to happen, experts say.
Here's how they say such corruption happens:
The amount of money needed to run for office remains staggering.
Democratic and Republican House candidates have raised $590.7 million for the current election cycle, according to the Center for Responsive Politics. An average House race cost $2.8 million between 2000 and 2014. To raise such monies, CBS' "60 Minutes" reported, House members must spend at least four hours a day and 30 hours per week in call centers, dialing for dollars. One Republican congressman's fundraising quota was $18,000 – every day.
Television drives the massive amount of money needed for campaigns.
The bulk of campaign funds buys television time. Campaigns will spend $1.1 billion on TV ads during the 2016 election cycle, according to an August 2015 "Wall Street Journal" estimate.
"No one ever lost a campaign because they were on TV," said Republican strategist Dave Carney. "They've lost campaigns because they weren't on TV."
While some monies are shifting to cable and digital outlets, buying broadcast TV time consumes the overwhelming majority of campaign cash. A 30-second, prime-time commercial in a top market easily can exceed $100,000. And that's just for air time. Production costs extra.
Fattah's problems arose when he needed to buy TV time during his failed mayoral bid in Philadelphia. In desperation, he borrowed $1 million, which he plowed into TV. Complications arose when he had to repay that loan.
The amount of money that politicians raise – and to which they are exposed – invites corruption.
Contrary to popular opinion, the money that politicians raise does not belong to them. It belongs to their campaigns. To obey election and tax laws, these funds are earmarked for election activities. Lines can blur when candidates forget that this is not their money.
Former congressman Jesse Jackson, Jr. (D–Illinois) pleaded guilty to mail and wire fraud in February 2013. He used approximately $750,000 of campaign funds and a campaign credit for personal expenses. This included high-end electronic items; a washer, dryer, range and refrigerator; Bruce Lee and Michael Jackson memorabilia; movie tickets; health club dues; personal travel; furs; children's furniture; and restaurant meals.
Some donors expect that, once elected, office holders with ever-expanding areas of influence will address their concerns, wish lists, and desired votes on legislation. What differentiates a "campaign contribution" from a "bribe?" The distinction seems to be where there is some traceable benefit to the officeholder and the donor.
Fattah ran into this problem when he used campaign contributions to pay his son's college tuition. The former congressman also accepted a wealthy businessman's money in exchange for helping him find an ambassadorship. Other congressmen have been convicted for directly demanding money to purchase political favors. Such behavior meant jail for William Jefferson (D–Louisiana), Rick Renzi (R–Arizona) and Duke Cunningham (R–California).
Few people are convicted of political corruption, misuse of public office or bribery.
Only seven politicians have been convicted since 2001 for the kind of fraud and bribery that doomed Fattah. Four such convictions involved African-American Democratic House members (Fattah, Jackson, Jefferson, and North Carolina's Frank Ballance, Jr.). The paucity of such convictions does not necessarily mean that these campaign funds are unrelated to fraud or bribery. Perhaps, as in Fattah's case, money has been laundered via legitimate organizations, PACs and other seemingly innocuous channels. Criminal convictions for corruption require the highest burden of proof: beyond a reasonable doubt. Unfortunately for Fattah, he vanished beneath an avalanche of evidence. Fifty-eight witnesses and some 400 exhibits, including damning emails, assured his conviction.
Among Republican, Democratic and independent voters, more than 70 percent favor reducing money's role in politics, according to a June 29 Ipsos poll. The survey found the economy, terrorism, education, health care and campaign finance as these voters' top five concerns. Among these issues, only campaign finance has had no major relevant legislation passed within the past decade. Given that people who regulate campaign finance and prosecute its corruption receive their budgets from the same people they regulate and prosecute, "Get money out of politics" most likely will remain more slogan than reform.
Get Top Stories Delivered Weekly
More districtchronicles News Articles
Recent districtchronicles News Articles
Discuss This Article