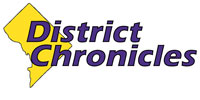 Post Classifieds
Virginia Gov. McAuliffe Restores voting rights of 13,000 citizens
By Jeremy Lazarus
On September 9, 2016
(TriceEdneyWire.com) – Just a month after the Virginia Supreme Court blocked his attempt to restore the voting rights of more than 200,000 felons, Gov. Terry McAuliffe is once again charging ahead on this "issue of basic justice."

The governor stood in front the Virginia Civil Rights Memorial on Capitol Square Aug. 22, to announce that nearly 13,000 formerly incarcerated citizens who registered to vote as a result of his executive orders that the court later deemed unconstitutional had been mailed individual orders restoring their rights.
Gov. McAuliffe also pledged to continue restoring the rights on a case-by-case basis for felons who have served their sentences and completed parole and probation so that they, too, can cast ballots, serve on juries, run for office and become notary publics.
"Let me put this in plain English: We will proceed," McAuliffe told an audience of 100 supporters, including legislators, administration members, voting rights advocates and people whose rights he has restored.
"It's wonderful," said an overjoyed David Mosby, who received his rights restoration order with the governor's signature and a state seal in the mail, along with a voter registration application.

The mailings to the nearly 13,000 people went out last Friday, ahead of the governor's announcement.
Mosby, 44, has rebuilt his life since leaving prison and now operates a home improvement business in Eastern Henrico County. He has been on a roller coaster regarding the restoration of his voting rights. He was among the group whose rights initially were restored four months ago when the governor, with much fanfare, issued a blanket order on April 22. Then, Mosby's rights were revoked after the Supreme Court ruled 4-3 that the governor's action was illegal.
With McAuliffe's latest action, Mosby is able to register to vote again, with proof of that right in his restoration order.
"I'm looking forward to voting in November," he said.

McAuliffe has made restoration of rights a priority since taking office in 2014. He had restored the rights of 18,000 people on a case-by-case basis – more than the seven previous governors combined – before he went even further April 22, with the blanket order restoring the rights of more than 200,000 felons.

"I personally believe in the power of second chances," McAuliffe said as he launched his renewed effort to ensure that former prisoners get their rights restored as quickly as possible.

Those impacted "are gainfully employed," the governor said. "They send their children and their grandchildren to our schools. They shop at our grocery stores and they pay taxes. And I am not content to condemn them for eternity as inferior, second-class citizens."
Historically in Virginia, convicted felons lost their rights for good, with the governor being the only official who could restore them. Virginia is one of four states that follow such a harsh regime.

In the past 15 years, governors have been speeding up restorations, particularly for nonviolent offenders. Gov. McAuliffe's predecessor, former Republican Gov. Bob McDonnell, made it virtually automatic for those charged with non-violent offenses to have their rights restored.
Gov. McAuliffe has gone even further by including all individuals – with non-violent- and violent offenses on their records – and as a result of his administration efforts, Virginia unofficially joins the majority of states that allow people to become voters as soon as they complete their sentences.
The governor said he would prefer the General Assembly and Virginia voters to amend the state Constitution to ensure political rights are restored once a prison sentence is completed. Republicans have long blocked such proposals in the General Assembly. The governor's efforts could end if the next governor does not continue the effort.
Under the procedure now in place, the names of people to have their rights restored are being sent to a broader array of agencies to be checked to ensure there are no red flags on their records that would require additional review.
Gov. McAuliffe and, later, Secretary Thomasson said each name is being run through the databases of such agencies as the State Police, the Department of Corrections, the Department of Criminal Justice Services, the State Compensation Board, the Department of Behavioral Health and the Department of Juvenile Justice.
Get Top Stories Delivered Weekly
More districtchronicles News Articles
Recent districtchronicles News Articles
Discuss This Article