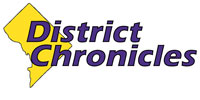 Post Classifieds
South African school ban on 'untidy' afros sparks student protests
On September 9, 2016
(TriceEdneyWire.com/GIN) – A government-run school has been accused of racism for regulating the look and length of Black students' hair.
Protests erupted at the Pretoria High School for Girls, once an all-White institution, when 13-year-old Zulaika Patel, who wrote an essay on Black women "suffering at the hands of White privilege" was reprimanded by her teacher because "her afro was unruly," the Al Jazeera news service reported.
As news of the incident spread, students began collecting signatures on petitions, holding silent protests, dressing all in black and wearing headwraps. A Twitter feed called #StopRacismAtPretoriaGirlsHigh was set up.
In an interview with the Dally Maverick, student Malaika Maoh Eyoh said that in grade nine, she cut her relaxed hair and grew a small afro. Her teacher called the cut "distracting," that it would keep other students from learning.
According to the school's code of conduct: "Cornrows, natural dreadlocks and singles/braids (with or without extensions) are allowed, provided they are a maximum of 10mm in diameter. Singles/braids must be the same length and be the natural color of the girl's hair … No patterned cornrows."
Leago Mamabolo, 18, said she was one of several girls singled out for a hair style compared to a "bird's nest" because of her dreadlocks. "It's not just about hair," said Mamabolo. "You're in fear when you go to school because you know you'll be policed."
Further, students said, the school has little tolerance for Black South African languages.
The provincial education official, Panyaza Lesufi, held meetings with school management and with students. "Feeling unwelcome in your own school ends here," he told them. "You have my support and I will protect you, whatever it takes. Just remain cool."
Fana Mokoena, spokesman for the Economic Freedom Fighters party, called it "deeply saddening that 22 years into democracy there are still institutions of any kind that would suppress blackness in its aesthetics and culture.
He said, "This (White minority) culture is as old as slavery itself and does not belong in a democratic dispensation such as ours."
Get Top Stories Delivered Weekly
More districtchronicles News Articles
Recent districtchronicles News Articles
Discuss This Article