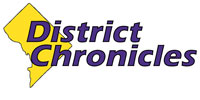 Post Classifieds
African-American and African Museums Draw Crowds in DC
On October 6, 2016
(TriceEdneyWire.com/GIN) – As thousands streamed into the striking new National Museum of African American History and Culture in Washington, DC, last week, another Africa-centered museum was also welcoming visitors to the nation's capital.
At the nearby National Museum of African Art, a special screening of the film "Am I: Too African to be American or Too American to be African?" was taking place.
With a warm greeting to those touring the history and culture museum, the African Art museum urged museum-goers to also see the film and meet film director, Nadia Sasso, for a parallel event.
The award-winning documentary explores the complex identity formation of young African women living in the United States and West Africa who identify as bicultural. The film examines race, complexion, gender, heritage and more.
Sasso commented: "I created "Am I: the Film" as a way to not only explore how immigrants and their offspring engage with the issue of bicultural identity politics on the American and African landscapes, but to create a dialogue between the generations. Cultural dualism is a reality that affects everyone, from our President of the United States, Barack Obama, to everyday citizens like myself."
The first in a series, the film features interviews with seven women of African descent in media, including "Awkward Black Girl" creator Issa Rae, who is half-Senegalese.
Sasso, 25, was born in America to parents who emigrated from Sierra Leone. In 2010, she co-founded Yehri Wi Cry (YWC), an organization that distributes birthing kits in Sierra Leone to increase the successful delivery rates for women. Now, she is a fashion consultant and the new media strategist for Royal Dynamite, a designer clothing business with a focus on community empowerment.
The recipient of several commendations, Sasso was among the "Next Generation of Female Leaders;" a Young African Committed to Excellence Award by Face2Face Africa magazine, and was the 2013 recipient of the Posse Foundation's Ainslie Alumni Achievement Award for her commitment to social responsibility and her ability to inspire others.
The film will show in New York City on Oct. 15 and again in Washington, DC on Oct. 22.
The two museums are operated by the Smithsonian Institution – the world's largest museum and research complex. Admission is free and the museums are open every day of the year except Dec. 25. Also in the complex is the America Indian Museum and the Air and Space Museum.
Exhibits at the new African American History museum can be viewed online at https://www.si.edu/Exhibitions/Museum/22
Get Top Stories Delivered Weekly
More districtchronicles News Articles
Recent districtchronicles News Articles
Discuss This Article