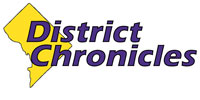 Post Classifieds
Meet Officers Ellis and Jordan with MPDs Deaf and Hard of Hearing Liaison Unit
On October 6, 2016
(Washington, DC) - Fourteen years ago, Officer Myra Jordan saw a need for a unit that would focus on the public safety needs of the deaf and hard of hearing community. Since then, she has succeeded in creating the Deaf and Hard of Hearing Liaison Unit (DHHLU) at the Metropolitan Police Department (MPD). This unit conducts patrol functions, responds to citizen complaints, and trains officers. They also provide sign language interpretation to aid deaf and hard of hearing citizens in their interactions with police officers.
"Last year our unit handled over 300 calls for service," said Jordan who has been with the unit since its inception in 2002. "That includes calls for follow ups, community outreach, juvenile support, education, mentally ill, and more."
This two-person team includes officers Myra Jordan and Tayna Ellis who support the District of Columbia's deaf and hard of hearing community, which has one of the largest populations of residents who are deaf and hard of hearing in the country.
"Every day the unit is fostering new programs, initiatives, and relationships to increase the interaction and communication between officers and the deaf and hard of hearing community," said Captain Cheryl Crawley with MPD's Special Liaison Division.
The Special Liaison Division provides support to all citizens within the District of Columbia through community policing and is composed of the Asian Liaison Unit (ALU), Deaf and Hard of Hearing Liaison Unit (DHHLU), Gay and Lesbian Liaison Unit (GLLU), and the Latino Liaison Unit (LLU).
"Police and communities must continue to work together. The DHHLU has a strong relationship with community organizations to provide leadership, advocacy, education, and support to empower the deaf community," continued Crawley.
MPD's DHHLU maintains a close working relationship with deaf advocate organizations, such as the Deaf Abuse Women Network (DAWN). "We service the deaf community who are survivors to help them heal and progress with their lives," said Bregitt Jimenez an advocate coordinator at DAWN. "We also work closely with MPD to educate deaf and hearing communities on issues and how the police department can assist them."
DAWN is one of the many organizations MPD's DHHLU works with to provide a way for certified sign language interpreters to assist detectives in their investigations. MPD is committed to ensuring that all members of the community can obtain police service, regardless of their language, abilities, education, background, age, or location.
"We have multiple communications tools and we are on call 24/7," said Ellis who has been with the department for thirteen years.
In April 2010, the DHHLU introduced a new capability for members of the deaf and hard of hearing community to communicate with its members. Each police district station now offers a video relay service which enables those who rely on American Sign Language (ALS) to access a live interpreter via a computer and video camera at the station desk. Station personnel are trained in the use and operation of the technology and can assist members of the community to establish a connection.
Service to the community runs deep in both officers' hearts. Officer Jordan who has worked at MPD for over 26 years has, "known sign language since the age of six. When I was growing up my next door neighbor was deaf and we played together as kids. I did not know that her language would be such an instrument in my life," said Jordan.
MPD is the only police department in the country that has a unit dedicated to the needs of the deaf and hard of hearing community. For more information about DHHU services, go to: http://mpdc.dc.gov/page/deaf-and-hard-hearing-liaison-unit
Get Top Stories Delivered Weekly
More districtchronicles News Articles
Recent districtchronicles News Articles
Discuss This Article