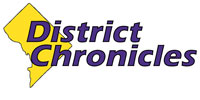 Post Classifieds
Team Philly beats Team DC in exhibition, 174-167
By Freddie Allen
On October 24, 2011
DC all-star No. 2 John Wall soars to rim for 2 of his 38 points in the loss. Freddie Allen/DMVAS/District Chronicles
On Saturday, October 15 local basketball fans crowded into the gym at Calvin Coolidge High School in Washington, DC to witness the latest lockout exhibition of NBA players doing what they do best. The game slated as "The Chocolate City vs. The City of Brotherly Love" featured hometown heroes like Kevin Durant and Jarrett Jack and Washington-transplant John Wall of the Wizards.
Hakim Warrick of the Phoenix Suns and Lou Williams of the Philadelphia 76ers led Team Philly in an exciting 174-167 win over the DC squad.
The DC all-stars got off to a slow start and the Philly all-stars took full advantage, scorching the nets with spectacular dunks and raining three-pointers from downtown. Team Philly went up by 24 points in the 2nd quarter before Durant and his DC teammates started digging their way out of the hole. The Oklahoma City forward caught fire and helped his team close the deficit to 85-75 going into halftime.
The DC all-stars carried their momentum into the second half and snatched the lead from Philadelphia on a Durant three-pointer. KD finished the game with 56 points and 9 rebounds. John Wall pitched in 38 points on 16 for 28 shooting.
Team Philly refused to lose and mounted a 4th quarter comeback. Lou Williams couldn't miss down the stretch, hitting shots all over the court.
"That kid can score the ball, man," said Laron Profit, NBA veteran and University of Maryland alum. "In Philly they pay him to come off the bench and score and everybody got a chance to see it tonight."
Williams finished right behind Durant in scoring with 53 points.
Despite the loss, Jarrett Jack felt good about returning to Washington to play for local fans and family. Jack attended DeMatha High School in Hyattsville, MD.
"A lot of people don't get an opportunity to come to the NBA games, whether it's the schedule, the price or whatever the case is," Jack said. "When you can come and play in people's backyards it just shows the 'pride factor' and how much guys just love the game."
Profit said that games like this are important when it comes to keeping fan support high for the players during the NBA lockout.
"I think its good for the fans and for the players to stay visible," Profit said. "It gives the fans another outlet to see some basketball and to see their favorite players play."
Get Top Stories Delivered Weekly
More districtchronicles News Articles
Recent districtchronicles News Articles
Discuss This Article