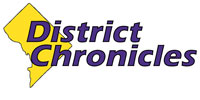 Post Classifieds
For Danny Glover, the AIDS struggle is personal
By Othor Cain
On August 4, 2012
Glover served as a good will ambassador for the United Nations development program and focused on HIV/AIDS in Africa. Freddie Allen/NNPA
WASHINGTON (NNPA) - Working in an industry where he has seen many of his contemporaries lose their battle with AIDS, actor Danny Glover is on a serious mission of spreading awareness about the disease in hopes of challenging minds and saving lives.
"I had a friend who died from the complications of AIDS in 1987 and even then when I didn't know a whole lot about the disease, I would bring him food and do what I could to help him," Glover said. "This is something that we all should get involved in."
Having served as a good will ambassador with the United Nations Development Program (UNDP), Glover's work in the HIV/AIDS arena had centered mostly on under served areas around the world, specifically the continent of Africa.
It was in 2000 at the WORLD AIDS Conference when he [Glover] met Phil Wilson, executive director for The Black AIDS Institute (BAI) where his eyes opened to a more local presence in the United States.
"Phil said to me it is fine to talk about what is happening in Africa, but we must also add to the conversation what is happening in under-served communities in the United States, right in our own backyards," the multi-award winning actor said. "I've been working with the Black AIDS Institute every since."
That work with the BAI brought Glover to the Global Village portion of the 2012 Conference, where he shared personal thoughts of his fight to raise awareness.
"We are in a crisis situation now with this disease adversely and disproportionately affecting Black men and in particular gay Black man and with the platform I have, I intend to continue to speak out about it," he said.
Hundreds of community advocates, workers, researchers and the public gathered to hear Glover's presentation.
"I was encouraged to continue my mission of disseminating information to communities of color," said Jason Davis, an HIV-positive 23-year-old, who uses his condition as an opportunity to teach. "As teenagers we tend to think that we will live forever and we live our lives very carelessly."
Glover, who turned 66 while attending this conference, noted the importance of others working in the space that God has allotted them and using that space and their platform as a means of helping.
"Everyone, not just athletes, actors or famous people should help to raise awareness about HIV/AIDS," he ssaid. "Chances are you know someone infected with the disease or you will be affected by it so we are all in this together."
Get Top Stories Delivered Weekly
More districtchronicles News Articles
Recent districtchronicles News Articles
Discuss This Article