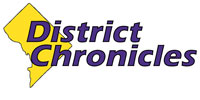 Post Classifieds
Locked out: Holder calls for voting rights for ex-cons
By Frederick H. Lowe
On February 24, 2014
U.S. Attorney General Eric Holder supports voting rights for ex-cons citing disenfranchisement of African Americans in the voting pool. justice.gov
U.S. Attorney General Eric Holder, who recently called for restoration of voting rights for people who served prison sentences, said the restriction has a disparate effect on African Americans. Felony voter disenfranchisement began after Reconstruction so Whites could diminish the voting strength of free Black men, Holder said.
"Throughout America, 2.2 million Black citizens - or nearly one in 13 African-American adults - are banned from voting because of these laws," said Holder during a speech at Georgetown University Law Center Feb. 11.
"In three states - Florida, Kentucky and Virginia - that ratio climbs to one in five. These individuals and many others - of all races, backgrounds and walks of life - are routinely denied the chance to participate in the most fundamental and important act of self-governance. They are prevented from exercising an essential right. And they are locked out from achieving complete rehabilitation and reentry - even after they've served time, and paid the fines, that they owe."
Holder said an estimated 5.8 million Americans are prohibited from voting because of a previous felony convictions. Among those at least 2.2 million of those are Black.
The Brennan Center for Justice at New York University Law School reported that Iowa, Florida and Kentucky permanently prevent convicted felons from voting unless the government approves individual rights restoration.
Alabama, Arizona, Delaware, Mississippi, Nevada, Tennessee, Virginia and Wyoming also permanently prevent at least some convicted felons from voting unless the government approves individual rights restoration.
Alaska, Arkansas, Georgia, Idaho, Kansas, Louisiana, Maryland, Minnesota, Missouri, Nebraska, New Jersey, New Mexico, North Carolina, Oklahoma, South Carolina, South Dakota, Texas, Washington, West Virginia and Wisconsin restore voting rights upon completion of a sentence, including prison, parole and probation. Nebraska, however, has a two-year waiting period.
California, Colorado, Connecticut and New York automatically restore voting rights after release from prison and discharge from parole. Probationers may vote.
The District of Columbia, Hawaii, Illinois, Massachusetts, Minnesota, Montana, New Hampshire, North Dakota, Ohio, Oregon, Pennsylvania, Rhode Island and Utah restore voting rights upon release.
Maine and Vermont do not prevent people with a criminal conviction from voting.
The Brennan Center called Holder's announcement "a great step forward on restoring voting rights." Holder's announcement calls for restoring voting rights to those who have completed probation, parole, and paid all fines, said Myrna Perez, Democracy Program Director at the Brennan Center.
Holder noted in his speech that people who are allowed to vote are less likely to return to prison because they have more of an investment in society.
Felony disenfranchisement has a long history in this country.
"After Reconstruction, many Southern states enacted disenfranchisement schemes to specifically target African Americans and to diminish the electoral strength of newly freed population," said Holder. "The resulting system of unequal enforcement - discriminatory application of the law - led to a situation, in 1890, where 90 percent of the Southern prison population was Black. And those swept up in this system too often had their rights rescinded, their dignity diminished, and full measure of their citizenship revoked for the rest of their lives. They could not vote."
Get Top Stories Delivered Weekly
Recent districtchronicles News Articles
Discuss This Article