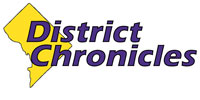 Post Classifieds
College student aspires to be 'chief' on the mic
By Andrew Asare
On July 27, 2011
Almost a year after dropping his first single, Chieflo is more focused than ever. thehureaction.com
Logosou "Chieflo" Kudayah plays with his BlackBerry, waiting for his turn. Propped upright in a white leather couch, he psyches himself for a performance at DC's LIV Nightclub Open Mic night.
Kanye West's "Flashing Lights" spins as the DJ preps for another showcase of undiscovered talent in D.C. Glancing at the stage, Chieflo turns his attention away from his BlackBerry, nodding his head to the throbbing beat of "Flashing Lights."
The neon lights flash rapidly from green to yellow, and red, complimenting the lyrics of the song. The aroma of hot chicken wings, liquor, and the scent of old wooden floor waft in the club as the audience gets thicker by the minute.
The host of the night, Michael Thompson, calls for all acts to sign up. Chieflo springs off the couch and heads to the line to write his name. He spells it out on the paper "C-h-i-e-f-l-o."
The evening's hosts Michael Thompson, the Lissen Band and Black Boo of D.C. Go-Go band Mambo Sauce call out the first talent.
First Nikky Ray, next Godsilla. Chieflo's anxiety rises.
At last, Michael bellows, "Coming to the stage Chef-Lo, Chef-Lo coming to the stage."
"Calling out Chef-Lo for the last time. Come to the stage, Chef-Lo," Thompson shouts on the microphone. But Chieflo, still doesn't recognize his name. He stays put.
Then later, it occurs to him that maybe the host meant "Chieflo, not Chef-Lo. As the night continues, Chieflo's calm turns into aggravation and irritation at himself, for not recognizing his call; and the host for mispronouncing his name. Upset and annoyed, Chieflo storms out of the now packed LIV.
"I know I wrote Chieflo on the list," he says in frustration. "How could the host be so stupid as in to say 'Chef-Lo', it's clearly 'Chieflo.'"
All the preparation for the show of his life had come to naught.
"My craft, music, is where I come from," he said. "It's what takes a hold of me."
For this up-and-coming lyricist, music has always been his outlet. Growing up in a strict household with Togolese and Liberian parents, the Kudayah family moved frequently across the nation. His father was a Navy serviceman, but he played the saxophone, too. His mother taught music.
But it wasn't until he heard the 90s anthem "California Love" by rapper Tupac, that he got addicted to hip hop. He was on a road trip with his parents from the mid-west to the east coast. He recalls traveling from Minnesota to New York to a new home, in a rental car. His father was playing with the radio and "California Love" came on.
"I felt the feeling of raw emotion through that song," he said. "For some reason my dad wasn't cutting it off."
From that moment, Chieflo spent much of his time listening and dissecting hip-hop lyrics. Influenced by artists such as Sheek Louche, Lupe Fiasco, and Jay-Z, the young student named Logoso became steeped in the language of hip hop.
Logoso's understanding of the lyricism of hip hop led to writing his first song at 10. Ten years later, Logoso, now named Chieflo, which stands for "chief" in his father's native tribe in Togo, Africa, released his debut mixtape, "Lo and Behold." Featuring soulful melodic samples, and hard-edge hip hop beats, "Lo and Behold" paints a colorful image of a college student turned MC.
"I wanted all the music that I made for "Lo and Behold" to reflect all my experiences thus far," he said. Chieflo describes "Lo and Behold" as an illustration of the struggles, challenges, and triumphs in his life from identity, relationships, sex to career aspirations.
For example, an experience of neglect and vulnerability in December 2009 led to the lead single off "Lo and Behold" titled "I Need You."
During Christmas time, in Boston, while his parents were going through a bitter divorce, Chieflo found himself trapped in a cold basement room. "I Need You" came to his mind.
"My parents were separated but still in the same house during Christmas. I needed my girlfriend, but she wasn't there," he said. "We had our problems, but at the time I just wanted someone to confide in."
"Who do I talk to? It was just a hard pill to swallow, but that song came out of that."
The single premiered mid-August 2010 and now has over 4,000 downloads with placement on famed hip hop sites such as HipHopDX.com and Rhyme365.com. Eight months later, Chieflo now splits his focus between his studies and promoting his mixtape "Lo and Behold," and is planning production of a video for "I Need You."
Get Top Stories Delivered Weekly
More districtchronicles News Articles
Recent districtchronicles News Articles
Discuss This Article