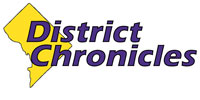 Post Classifieds
Howard University talent shine in "42"
By Dominique Smiley and Nicole Billingslea
On April 29, 2013
Chadwick Boseman, a Howard Theatre alumnus, plays Jackie Robinson in the movie "42.". 42movie.warnerbros.com
Ossie Davis. Before his death in 2005, he had acted in more than 100 films and television projects. Phylicia Rashad. She became a household word playing Clair Huxtable on "The Cosby Show." Taraji Henson. Her performance in the film "The Curious Case of Benjamin Button," starring alongside Brad Pitt, got her an Academy Award nomination for Best Supporting Actress in 2009.
They are all graduates of Howard University's Theatre Department. Add to that list of giants in the film industry, Chadwick Boseman, a star in "42" portraying baseball legend Jackie Robinson. The film premiered in several local theaters on April 12.
Before its release, the film garnered a bit of publicity and attention, especially on Twitter. Scooter Braun, mostly known for managing musical talents such as Justin Bieber, tweeted: "Suggest everyone see #42movie this weekend. #greatflick". The tweet was subsequently retweeted 646 times.
Larry King, former CNN Larry King Live host, thwarted negative critics with his tweet, "The @USAToday & @WSJ critiques of the #42movie don't know what they're talking about - this was the Jackie I knew in '47 - I know I was there"
Aside from gaining much support from spectators, the movie has earned a place in the record books. "42" not only took the number one spot from "Scary Movie 5", earning over $27 million in the opening weekend, but according to the Los Angeles Times, it out-grossed it's projected income of only $20 million.
USA Today even reported that the movie now holds the record for the largest opening weekend for a baseball film, passing the 2006 comedy, "The Benchwarmers," which brought in $19 million in its opening weekend.
Freshman acting major Martece Caudle is ecstatic to be following in the footsteps of Howard's film giants.
"I knew the prestige of the acting department and the great names that came from it," he said. "And I also heard a lot of good things about it."
Howard University President Sidney Ribeau is also effusive in his praise of "42" and its star, Boseman. He wrote in his weekly newsletter last month: "I really enjoyed the film, which tells the story of both Jackie Robinson and Branch Rickey, who signed Robinson to the Brooklyn Dodgers. It shows the tremendously difficult journey these two men traveled to show everyone the talent Robinson had for playing baseball, despite the violent opposition to his race.
"At one point in the movie, Rickey and Robinson are discussing courage in the face of the racism and degradation Robinson is enduring. Robinson asks, 'You want a player that don't got the guts to fight back?'
"Rickey responds, 'No. I want a player that's got the guts NOT to fight back'."
Then President Ribeau adds a bit of history. "Unlike many during that time period who chose to fight back, Robinson didn't have that option if he wanted to continue to play baseball and maintain everything they had worked so hard to accomplish."
For more information visit the film's website: www.42movie.warnerbros.com
Get Top Stories Delivered Weekly
More districtchronicles News Articles
Recent districtchronicles News Articles
Discuss This Article