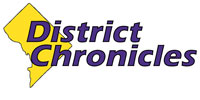 Post Classifieds
Kevin Hart, Ice Cube 'ride' into first place at box office
By Nicole Williams
On January 27, 2014
Ice Cube and Kevin Hart make a big splash at the box office in the comedic duo "Ride Along.". Universal Studios
What better way to begin your 2014 movie-going season than with two of perhaps the most complimentary costars the silver screen has seen in ages: Ice Cube and Kevin Hart star in the new action-packed comedy "Ride Along." Last weekend, it opened with a whopping $47.8 million - breaking MLK weekend records.
Cube plays a tough guy detective, while Hart plays Ben, a high school security guard who wants to marry James' sister Angela, who is played by Tika Sumpter. In order to receive James' blessing, Ben agrees to a ride along with many hilarious and thrilling obstacles, which really highlighted the talent of both Cube and Hart. Will Packer and Ice Cube are two of the producers, with Tim Story directing the movie.
Cube says the movie makes the audience want to be a part of the ride along.
"The title is 'Ride Along' and the audience really, really wants to be in that back seat. Ride along and see how James can torture Ben and how Ben is resistant, you know. Ben is like a cockroach, he won't die, he won't go away, he won't quit," said the rapper turned movie mogul.
"Cockroach is a little extreme. You could've used another animal," said Hart.
Both actors explained how it was working with each other, while cracking many jokes, but both saying they have a mutual respect for one another.
"He's always on point. It's cool because he'll make the crew laugh, but also make the camera laugh too and a lot of guys can't do that. Some comedians I've had to pull to the side and say, you're making the crew crack up, but when we're shooting you ain't got no energy. What the [expletive], you know what I mean? Sit down ... He's not like that. He's an Energizer bunny. I don't know if it's coffee or cocaine, I don't know what it is but he's an Energizer bunny," said Cube.
Hart also explained that by working with Ice Cube he got to see he is truly a professional.
"After meeting him (Ice Cube) and really talking and vibing with him about the projects and see his passion, I grew more excited. Once we got on set, we both had the same agenda, which was to knock this movie out the damn park and make sure we both bring our 'A' game. It takes a true professional to allow somebody like myself to come in and have the opportunity to be funny and to do all those things, but Cube, he didn't mind doing that," said Hart.
With Hart's more recent success, with the launching of his own docu-comedy in 2013, "Let Me Explain," sold out comedy shows and starring in a slew of other back-to-back movies coming out this year, it was hard not to notice that his presence in a movie makes it absolutely captivating and hilarious.
"I haven't seen somebody command a scene since Eddie Murphy, like Kevin. Kevin can come in and just basically hold you hostage until he wants to let you go. Everybody's captivated; he's just an amazing talent," said Ice Cube.
"Ride Along" is a healthy balance of action and comedy with an underlying message of "don't judge a book by its cover."
"I really believe that if I'm laughing behind the camera that I think the film will be funnier," said Story who also produced "Think Like a Man."
Adding to the well-written script created by writers Greg Coolidge and Phil Hay, was a bit of room for improv from the actors, which producer, Packer said is something he likes his actors to do on set.
Get Top Stories Delivered Weekly
More districtchronicles News Articles
Recent districtchronicles News Articles
Discuss This Article