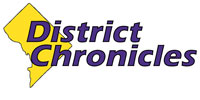 Post Classifieds
Metro Brief: Morehouse vs. Howard to bring historic 'classic' game Saturday
District of Columbia
On September 12, 2011
HU Hall of Famer Gary Harrell will lead the Bisons against Morehouse in the AT&T National Classic ga. howard-bison.com
As the hype heightens for the AT&T Nation's Football Classic, featuring Howard University and Morehouse College in the inaugural game on Saturday at RFK Stadium, the school's head football coaches—Howard's Gary Harrell and Morehouse's Rich Freeman—are busy preparing their respective squads for an emotional and intense matchup. It has been 14 years since the two programs have met and under the leadership of Harrell and Freeman, the schools will renew one of collegiate football's longstanding rivalries.
The Howard University football team is led by head coach Gary "The Flea" Harrell, a former standout wide receiver at Howard who was a vital contributor on the undefeated 1993 team (11-0) that won the Mid-Eastern Athletic Conference (MEAC) Championship and the Black College National Championship. Harrell currently holds school records for most receptions in a game (13) and in a career (184).
"It is a great opportunity for me to lead this program in a new direction and get the tradition going again," said Harrell. "We are starting what we're calling 'The Road to Redemption' not for me to redeem myself, but for the team to prove to each other that we can bring back our winning tradition."
Harrell, who was inducted into the Howard University Hall of Fame in November 2005, is ranked in the school's top five all-time for punt return yards (417). He graduated from Howard in 1994 with a B.B.A. in Marketing. Following professional stints including the New York Giants, Harrell began his coaching career at Howard in 2002 as a wide receiver coach before moving on to coach at several universities including Florida A&M. Harrell became head coach at Howard University this year.
Harrell wasted no time assembling a coaching staff that has strong ties to the Howard University football program, and five of them, including himself, have played or coached against Morehouse specifically. Offensive coordinator/quarterback coach Ted White, the MEAC and Howard all-time leading passer, returns to his alma mater after coaching at Southern University. White is joined by defensive line coach Bobby Jones, defensive coordinator Rayford Petty, and wide receiver coach Jonathan Brewer, who all played or coached against Morehouse at one point during their careers.
"We know what we're up against and know that Morehouse is a very good team coming off a great season last year," continued Harrell. "But we feel very good about Howard University and where we are today."
The Morehouse team is helmed by Rich Freeman, a defensive specialist entering his fifth season with the school. He is proud to be coming off a season in which the team made the NCAA Division II playoffs for the first time in school history and finished 23rd in the final NCAA Division II ranking.
"What better city to renew a rivalry like Morehouse – Howard than in a city like Washington, D.C.?" said Freeman. "This game gives us the opportunity to play on a larger scale. The world is looking at you, and you get a chance to do something monumental for your institution. Renewing this rivalry will excite the fans, but it's also great for Black college football in general."
Freeman played linebacker and was named team captain for Tennessee State University. He was TSU's Defensive Player of the Year in 1995 and graduated with a B.A. in Physical Education and Recreation. Before taking the head coach position at Morehouse, he was the Assistant Head Coach and Defensive Coordinator for Lane College in Tennessee. He currently boasts a 28-12 record at Morehouse.
"I'm expecting a hard-fought football game. We're going into this football game blind, they have an entirely new coaching staff and they are a Division I-AA football championship series program," Freeman continued. "Coach Harrell is an extremely good football coach with a great offensive mind and he has some good coaches on his coaching staff. We know they'll be well prepared but so will we, and we're up for the challenge."
The event takes place Thursday through Sunday. In addition to the on-field matchup between two historic rivals, events include educational activities, fan experiences and networking opportunities. All events are free to the general public (except for the football game).
Tickets for the inaugural AT&T Nation's Football Classic™ are on sale now at all Ticketmaster locations, Ticketmaster.com, the Howard University box office located at Cramton Auditorium and the Morehouse College Bookstore. Seats are $15 to $60. For group sales and tickets in the VIP "Super Suite" area, please call (202) 608-1140. Special discounted hotel rates are available at six D.C.-area Marriott properties.
For additional information visit www.NationsFootballClassic.com.
Get Top Stories Delivered Weekly
More districtchronicles News Articles
Recent districtchronicles News Articles
Discuss This Article