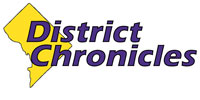 Post Classifieds
GMU student leader fights to reduce marijuana possession penalties
By Michael Victorian
On December 19, 2002
Should students really be punished for marijuana use? Is marijuana a gateway drug? Nathan Larson, a student senator at George Mason University answers with an emphatic, NO! Larson serves as a representative of the School of Management at GMU and is leading a crusade against the penalties of student marijuana use. He has recently proposed that GMU's student government call on the Virginia General Assembly to "eliminate all criminal penalties for possession of marijuana." This proposal comes at a time when the popularity of marijuana among college students is on the rise.
Currently, George Mason holds a policy toward marijuana use similar to many universities in the area. They regard marijuana as an illicit and illegal drug and require students found in possession of the drug to undergo "evaluation by personnel of the University's Drug Education Services. The university does, however, make a distinction between marijuana and other so called "hard drugs" such as cocaine or heroin. According to the university drug and alcohol policy, the standard sanction for a student's first on-campus violation involving possession or use of marijuana or possession of drug paraphernalia is suspension from the university for a minimum of one academic year. However, because of the
distinction made between marijuana and other illegal drugs, Judicial Administrators are allowed discretion and may reduce the sanction.
It is because of this distinction, that Larson believes his cause has validity. "The university already allows students in violation of the current statutes leeway because they know that marijuana is not a serious threat to the community," Larson said. A fellow student, John Scotch agrees. "Most of the kids who smoke [marijuana] here just go to their rooms and watch a movie afterwards. It is not like they are causing trouble," he said.
Larson acknowledged that the university was not at liberty to act independently of the state of Virginia, which is why he is attempting to bring his case to the Virginia General Assembly.
According to Larson, the reason marijuana is illegal is because it is perceived as a gateway drug that leads to the use of harsher, more addictive substances. Larson disagrees with that perception, and referenced a recent study challenging the gateway drug theory. The study, as Larson pointed out was conducted by the think tank RAND Corporation of Arlington, Va. The mathematical model used by RAND found chance rather than continual marijuana use is a better explanation of why people might go on to use harder drugs. Andrew Morral, associate director of RAND's Public Safety and Justice Unit and lead author on the study said, "All the evidence used to support the gateway effect can be accounted for by chance using the model that has no gateway effect." The team used surveys from 1982 to 1994 to construct a model representative of adolescent drug usage in the United States and assumed kids were more likely to use drugs due to genetics or their environment-as supported by real world evidence.
Paul Armentano, spokesman for the National Organization for the Reform of Marijuana Laws (NORML) said, "It does not surprise me. NORML has maintained for some time that the gateway effect was really just smoke and mirrors." He also lauded Student Senator Larson for his efforts in changing his school's policy.
While the U.S. Drug Administration was unavailable for comment on the study or the proposal of Nathan Larson, DEA spokesman Will Glaspy was quoted by United Press International as saying, "It is the agency's position that "a high majority" of cocaine and heroin users in the U.S. first used marijuana."
Morral commented that marijuana use comes first because it is the first available drug, not because it leads to harder drugs.
Armentano also refuted the DEA's position. "It is clear that for the overwhelming majority of Americans, marijuana is actually a terminus rather than a gateway. The overwhelming majority never go on to use marijuana and most of those no longer use marijuana after the age of 25."

Contact Michael Victorian at District_Chronicles@hotmail.com.

Get Top Stories Delivered Weekly
Recent districtchronicles News Articles
Discuss This Article