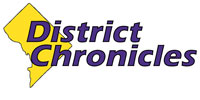 Post Classifieds
Howard student's journey from 'menace' to glory
By Chloe Edmonds
On December 31, 2012
In his final year of high school in Pomona, CA., David Michael Castain II was going steady with sweetheart Allegra. Everything seemed good, he says, until Allegra and her mother concluded Castain had nothing going for himself. Allegra dumped Castain.
This was true then, Castain said from the second floor of the School of Communications building at Howard University where he is a graduating senior in speech and applied methods.
"I can't blame her or her mother," he said. "I did not even have any plans of getting anything going for myself that wasn't connected with committing crimes."
Castain was in and out of different schools for behavior issues. He was not thinking about going to college, but selling drugs, gang banging, and spending most of his days avoiding police and ducking from enemy gangs. Since the age of 14, Castain had been in and out of jail.
"Superior court judges named me a menace to society," he said. "Education was clearly not my thing. I went through four different high schools before graduating, including a continuation high school." He said he attended the continuation high school during his junior year because "he couldn't handle himself with the general population."
He explained that continuation high schools in California are alternative to traditional high schools or juvenile detention centers, designed for unruly or at-risk youth
Castain was a narcotics dealer, who had a rich history of hustling. Since the age of five, he was pushing crafts that his mother created, such as barrettes, pillows, quilts, ornaments, bookmarks, Easter baskets, and Christmas stockings, whatever.
"That's how we paid our bills," he said.
Castain's gang was the Pomona North Side Island 456 Piru Blood Gang. It was called the Islands because it was the only Blood gang in his hometown, Pomona, California, that was fully surrounded by gangs of Crips.
"I had to be cautious of where I went, what I did and how I did it because one wrong move could end my life."
Once, shooting craps outside in his neighborhood, Castain won $2,000 - and a few angry opponents.
"Obviously the people who were losing their money were upset," he said. "They accused me of playing with fake dice and tried to jump me and get their money back."
Castain escaped and drove off with them shooting at the back of his car. "But that's nothing unusual around my neck of the woods," he said.
Even this near-death experience was not enough to change his life. "I was the 21st century Robin Hood in the streets, doing whatever I had to do to get paid; until harsh reality hit," he said.
In 2006, Castain was arrested and given a 10-year prison sentence for armed robbery. Two years later, with the help of three lawyers, $20,000 and after many court dates he took a deal which granted him time served and an additional eight months of home monitoring. During his stay at the California Correctional Facility, he promised himself and his family that he would never go back to street life. It was then that he decided to turn his life around.
"God had given me a second chance at freedom and life," he said.
During house arrest, he saw college acceptance letters arriving for his younger sister, Taneisha Castain, one of them from Howard University. He, too, was inspired to apply to Howard University.
"By the grace of God, I was accepted," he mused.
At Howard, Castain is transforming himself from being a "menace to society" to a businessman. He is doing everything from writing award-winning business plans for his future enterprises to marketing and promoting hip hop mega stars and future music and entertainment moguls. He has coordinated college events with celebrities Diddy, Chris Brown, Nicki Minaj, Waka Flocka, Wale and Bow Wow. He has also done events with sports superstars like Lebron James, Shaquille O'Neal and John Wall.
Along the way, he has earned himself the nickname of Social Engineer. The Washington Times has named Castain "the country's best promoter" and said, "if you haven't heard of David Castain, you will."
"I want them to know they can dream the impossible, and then achieve those dreams," he said. "If I can make it, anybody can."
Get Top Stories Delivered Weekly
More districtchronicles News Articles
Recent districtchronicles News Articles
Discuss This Article