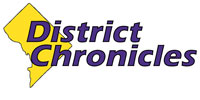 Post Classifieds
Dunbar's talented trio keeps making plays
By Terez Paylor, Editor-in-Chief
On November 24, 2005
When staff members of Rivals, a Web site that ranks high school football players, visited Dunbar this summer, one of them asked Arrelious Benn what position he coached. But Benn is no coach. He is one of the top high school receivers in the country. And he is just 16.
"They all call me grown man," Benn laughed, partly because of mature-looking face.
Opposing cornerbacks probably call him a threat, and his coach calls him a playmaker. But he is not the only one who makes things happen on the field for Dunbar, as quarterback Nathan Bussey and cornerback Vontae Davis have helped lead the Crimson Tide to an 8-2 record and an appearance in this year's Turkey Bowl.
The name "old man" is fitting because Benn, a junior wide receiver, is like a man among boys on the field. So far this year, Benn has caught 47 balls for 1,017 yards and 14 touchdowns. And his intriguing combination of speed and size (he stands at 6-foot-2, weighs 200 pounds and runs the 40-yard dash in 4.4 seconds) are the main reasons he is widely considered to be one of the top wide receiver prospects in the class of 2007. Benn's coach, Craig Jeffries, told one major recruiting service that he is the best player he has ever coached, which is high praise coming from a man who has sent several players to Division 1 schools and a few (including Maryland's James Lynch, Utah's Steve Savoy) to the NFL.
Benn has already been offered scholarships at major football powerhouses like Notre Dame, Florida, Ohio State, Tennessee, Michigan State and Miami.
For all his talent, Benn still depends on his quarterback, junior Nate Bussey, to get him the football. Bussey has led Dunbar to two consecutive city championships and has thrown for 30 touchdowns while completing 109 out of 193 passes for 2,229 yards this season. Bussey has also shown he can hurt you with his legs, as he's rushed for six touchdowns on the ground.
"He's an athlete playing quarterback," Davis said. "He moves around in the pocket. He has a swagger."
But although Benn and Bussey are good players, they both concede that Davis, a 5-foot-11 senior cornerback who is rated by espn.com and rivals100.com as the number one high school senior in Washington, D.C., is the best player in the city.
"He's an all-around player - he could play defensive back, receiver or running back," Bussey said. "He's got tremendous speed, and he just makes things happen. Unless he was playing really far back (off the receiver), I wouldn't throw his way."
For Davis, football runs in his family. His brother Vernon is a junior tight end at the University of Maryland and is projected by NFL scouting services at the top NFL prospect at his position. But strangely enough, he says he didn't start liking football until he got to high school.
Davis says his first interception at the high school level hooked him on the sport.
"It was 10th grade, and coach had me playing safety. They threw the ball and when I saw I could intercept it, my eyes got real big," Davis amusingly recalled. "When I realized the ball was in my hands, time just froze. I'd never felt a rush like that before."
He hasn't stopped making plays since. This year, Davis has caught 24 passes for 400 yards and 6 touchdowns, carried the ball 24 times for 487 yards and 7 touchdowns, and picked off 6 passes (including one for a score) on defense.
Now, Davis laughs, he can't remember the last time he touched a basketball. And he won't need to for a while - he has more than 20 scholarship offers from several Division 1 colleges, including Maryland, Purdue, Michigan State, Illinois, Virginia and North Carolina.
According to Jeffries, one thing that separates the three from a lot of other players is that they are all good students. Davis has a 3.0 GPA, Benn carries a 3.2 GPA and Bussey carries a 3.8 GPA. Their success on and off the field are the main reasons why all three are captains - even though Benn and Bussey are just juniors.
But despite their individual and cumulative accomplishments, Jeffries says that the trio remains humble.
"It's really unassuming because they are all such nice kids. They are actually regular Joe's who would rather just be a part of the team," Jeffries said. "They want to do well and they are proud of their accomplishments, but they just want to fit in. It sets the tone for everybody else."
But still, despite their humility, Jeffries recognizes that they can't help but stand out - and make plays -- on the field.
"They are a triple threat," Jeffries said. "I don't think anyone in the city can run with Vontae and Arrelious. Nate's up there too. The combination of their speed and their physical strength separates them from a lot of other players."
Get Top Stories Delivered Weekly
More districtchronicles News Articles
Recent districtchronicles News Articles
Discuss This Article