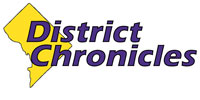 Post Classifieds
Some say Obama is race shy, but White House aide Valerie Jarrett says otherwise
By George E. Curry
On February 25, 2013
Obama's speeches avoid the word "Black" but White House adviser Jarrett says they are tailored to be inclusive. Flickr/The White House
WASHINGTON - President Obama has launched initiatives and backed legislation that have significantly helped African Americans throughout his time in office even though there is a perception in some quarters that the nation's first Black president hasn't done as much for African Americans as he has for Latinos, gays and lesbians, and other groups, according to White House adviser Valerie Jarrett.
In a meeting with six African-American journalists last Thursday, Jarrett, a senior adviser to the president, said: "If you look at the president's record in the first four years, if you look at his major domestic policy accomplishments, they disproportionately do benefit the African-American
She explained, "If you look at the Affordable Care Act - roughly 9 million African Americans uninsured will have health insurance today - if you look at the president's Recovery Act and subsequent budgets ... If you went through the menu of tax incentives and unemployment that disproportionately benefit the African-American community, time and time again - I think unemployment insurance has been extended like nine times -every single time we had to fight the Republicans to get that done."
Several members of the Congressional Black Caucus have criticized the administration for avoiding direct references to Blacks in public forums.
At a CBC jobs tour stop in Miami last August, for example, Don Graves, executive director of the president's Council on Jobs and Competitiveness, said "certain communities have been hit harder than other communities."
Rep. Maxine Waters (D-Calif.) interrupted: "Let me hear you say 'Black.'" As the audience cheered, Graves said, "Black, African American, Latino, these communities have been hard hit."
Bishop Victor T. Curry, head of New Birth Baptist Church in Miami and president of the Miami-Dade Branch of the NAACP, said at that meeting, "We don't want to come across as being critical of the president. But if the president can count on 90 percent of the African-American vote, then the African-American community should expect something ..."
Asked why President Obama rarely uses the term "Black" when discussing public policy, Jarrett replied, "We aren't afraid of saying it's going to help the Black community."
But not everyone agrees.
According to research compiled by Daniel Q. Gillion, an assistant professor of political science at the University of Pennsylvania, President Obama has paid less attention to race - as measured by executive orders issued and references to race in public speeches - than every Democratic president since 1961.
Professor Michael Eric Dyson of Georgetown University said, "This president runs from race like a Black man runs from a cop."
"We want everybody in the United States to feel this vested interest in everyone's success," said Jarrett. "The president doesn't talk in ways that are divisive; he talks in ways that are inclusive."
She explained, "The first speech that he gave in 2004 [to the Democratic National Convention in Boston], he talked about there's a poor kid in Southern Illinois who's not doing well, that's the same as my kid not doing well. And the point is, again: Use language that's going to make people understand why it's in their self-interest for everybody's child to do well, regardless of race, regardless of zip code and that was the real spirit of the inaugural address, it was the spirit of his 2004 speech."
Like most politicians, especially when in the campaign mode, President Obama has made frequent overtures to the middle class while saying little, if anything, about poor people.
President Obama sent a clear signal last week in his State of the Union speech that he will continue to advocate on behalf of both the middle class and the poor.
He said, "America is not a place where chance of birth or circumstance should decide our destiny. And that is why we need to build new ladders of opportunity into the middle class for all who are willing to climb them."
Although he used the word "poor" only one time in the speech - while saying "middle class" six times - he left no doubt that will be a major emphasis of his second term. He was more specific in a speech he gave in Chicago on Friday.
"I want to focus on here in Chicago and across the country - is my intention to partner with 20 of the hardest-hit communities in America to get them back in the game - get them back in the game," the president said.
Get Top Stories Delivered Weekly
More districtchronicles News Articles
Recent districtchronicles News Articles
Discuss This Article