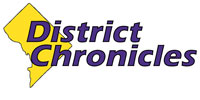 Post Classifieds
Howard University hosts Mandela photo exhibit
By Savannah Harris
On December 31, 2013
Emily's List joins the Washington Post as a high profile organization that endorses Councilmember Bowser. murielformayor.com
His sparkling eyes and wide, toothy grin showed the immense joy of a man who had succeeded in one of the most difficult tasks faced by humanity; the task of forgiveness.
The life of Nelson Mandela, former president of South Africa, anti-apartheid leader, and international model of integrity, perseverance and humility, is celebrated by Howard University in a photo exhibit that follows his life from childhood to his elegant leadership of one of the most troubled countries in the world.
"Mandela: Character, Comrade, Leader, Prisoner, Negotiator, Statesman," presented by the Moorland-Spingarn Research Center at the university, clearly outlines the elements of Mandela's upbringing that led him to emerge from nearly three decades of imprisonment without seeking revenge or spite - a level of compassion admired by the world for years.
Howard Dodson, the director of the Moorland-Spingarn Research Center, called the exhibit "the most comprehensive exhibit on Mandela's life to date," adding that; "Howard University is privileged to have been selected by the Apartheid Museum in South Africa to host this extraordinary exhibit at this time."
The exhibit welcomes viewers with a painfully telling photo of a haughty magistrate, his translator, and a small group of African men, each staring at the camera with defeated eyes and an expression of disapproval that show the emotional effect of the struggle between colonialism and historic traditions.
This image of men, belittled and restricted by a White oppressor is one of many that hang in the first half of the exhibit. They depict the humiliation and incredibly imbalanced treatment that Africans experienced in the early 20th century while Mandela was coming of age.
The exhibit's images of African laborers in the 1940s bear a striking resemblance to images of African Americans of the same era, portraying the shared struggle of Blacks in America and across the globe.
Segregation of races in all aspects of civilian life was law during apartheid. Blacks were forced to carry passes with them, making it easier for the government to monitor their movements and keep them from socioeconomic elevation, according to the exhibit.
Mandela, a young lawyer at the time, joined the African National Congress and led both non-violent and sabotage demonstrations against the government in partnership with the South African Communist Party and the South African Indian Congress.
Following his anti-apartheid work with the African National Congress, Mandela was imprisoned for 27 years. A photo of Mandela as a prisoner in a garden shows him standing tall, authoritative and strong. It is a testament to his unwavering loyalty and character.
Daryl Harris, the Chair of the Department of Political Science at Howard University, marveled at Mandela's ability to forgive after almost three decades of imprisonment.
"Here's someone locked up for 27 years and leaves behind struggle," Harris said. "This is what amazes me about Blacks. Our ability to forgive is unparalleled on this earth."
Mandela's ability to regard all - Black, White, oppressor and oppressed - as human, set an example for all people who have survived hardship.
As president, Mandela focused on improving the quality of life for South Africa's Black population by introducing socio-economic development programs, and creating the Truth and Reconciliation Commission to assess the human rights violations that took place during apartheid, according to the Encyclopedia Britannica 2013 edition.
Clement Akassi, a professor of Spanish and French at Howard, said, "He could've begun war against Whites, but he is the first one within Africa to understand that South Africa couldn't be a nation without Whites. He overcame micro-nationalism, and that is the biggest lesson he gave to all of Africa."
The exhibit, which will be open to the public until April 27, ends with striking images of a joyous and unburdened soul. Pictures of Mandela during his presidency, post-imprisonment, depict him as a man who never gave up his dream of social equality and cooperation between both Blacks and Whites in South Africa.
Get Top Stories Delivered Weekly
Recent districtchronicles News Articles
Discuss This Article