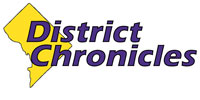 Post Classifieds
A year in Korea no small feat for Black woman
By Maya Allen
On February 25, 2013
Allen, a Fulbright scholar recipient who teaches in Korea, poses with a native. triceedneywire.com
(TriceEdneyWire.com) - Being a young, African-American woman, completely immersed into a 12-month fellowship in South Korea, one of the most homogenous countries in the world, is not a task that just any individual can take on.
It is a task that 22-year-old Spelman College graduate Taylor Allen has set her mind to and achieved. Her fearlessness and independence has allowed her to step outside the boundaries and borders of the United States that many never cross.
"Being a Black woman who graduated from a Historically Black College like Spelman, where they charge us to have the mantra of changing the world, I felt like I needed to broaden my worldly perspectives. I decided not only to just take a short trip but to actually live in another country abroad," said Allen.
A native of Portland, Ore., Allen had never been outside of the U.S. before landing in South East Asia. She knows that being conscious of today's society and its ever-changing world is vital. Her experience abroad is allowing her to understand other cultures and become a world citizen.
Allen is a recipient of the prestigious Fulbright Scholarship, a post-grad fellowship that allows her to teach conversational English classes to over 1,000 students each week at a private Christian high school in Daegu, South Korea.
She chose the Fulbright program for many reasons. One of them: the program is the only teaching assistance program that would actually allow her to live in a Korean community with a home-stay family, reinforcing complete immersion into the country.
She explores their racial, ethnic, and gender differences through her teaching experiences and also through her daily interactions with other Korean teachers, friends, and family members.
"I knew that as a woman of color, coming to South East Asia would be a complete culture shock," said Allen. "It's something I did to challenge myself. I knew that we are a minority in South East Asia and I wanted to start to think about the intersections of difference between being an African-American woman and being Korean, trying to see how those worlds and cultures have commonalities and differences."
African-American college students make up only 2.9 to 3.5 percent in study abroad programs when last measured in 2006, according to Medill Reports, "Open Doors," which is an annual publication of the Institute of International Education. During the same time period, Caucasian students averaged 83 percent of those studying abroad, the report states.
Allen's teaching experience has been an eye-opening experience thus far. She describes it as a "totally different world." The music, humor, and conversations are all distinctive to the Korean culture. When teaching her students, she literally crosses all cultural barriers, trying to meet them where they are in order to facilitate an enjoyable classroom experience.
"I have to be open to learning about them and what they like, which I tailor my lesson plans to," Allen.
Allen's life outside of the classroom has also been an intriguing experience.
"Of course I feel like a minority, but in Korea it's interesting because they do not emphasize color and race as much as they emphasize beauty," she said. "If Koreans think you're beautiful, they're probably not going to say anything about your race. Here in Korea they seem to be very concerned with body image, so it's not inappropriate to comment on one's body or weight. My students actually get in trouble for putting on fake eyelashes or putting on makeup in class. The first thing they'll say is, 'teacher you have a very glamorous body.'"
Glamour translates into 'You are slender.' In America, if someone said, "Oh teacher, you have a nice body," it would be considered inappropriate. In Korea, her students comment on her body all the time, it's almost like a commonplace.
One of the biggest challenges Allen has faced in Korea has been depending on others for simple tasks, such as setting up her own international bank account.
Allen will attend law school after her fellowship and explore public interest law. "I want to study law that actually helps and works for the greater good of people. It could be human rights international, civil rights, immigration, or education. Whichever calls me, I will do."
Editor's Note: The writer of this article is the sister of Taylor Allen.
Get Top Stories Delivered Weekly
More districtchronicles News Articles
Recent districtchronicles News Articles
Discuss This Article