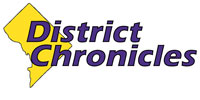 Post Classifieds
'No Murders D.C.?'
Sounds like a lofty goal, but its really a 'movement'
By Natasha Smith
On February 6, 2003
Whatever you do, do not refer to No Murders D.C. as an organization in front of its members."We are a movement - a group of concerned citizens who are willing to stand up and state that we will not accept murder in our city," said David C. Bowers, founder of No Murders D.C. "We are not looking to reinvent the wheel by putting more programs out there when there are already effective ones in existence aimed at similar goals."

Founded in Dec. 2000, No Murders D.C. was created with the goal of eliminating murder in the District by 2005. Since then, the movement has grown to include a core volunteer group of about 10 and an e-mail listserv of about 130 individuals and organizations.

In order to reach their goal, the movement follows two premises: one murder in the city is one murder too many, and the resources needed to end murder are already in existence in the District. To get those resources where they need to be, the group serves three functions.

First, they raise consciousness of the belief that there can be a District in which murder no longer exists.

Secondly, they act as a connection between officials and community organizations. They have met with police officials and Mayor Anthony A. Williams and continue to meet with community organizations such as Keep It Real, Inc., East of the River Clergy Community, and the Alliance of Concerned Men. In addition, the group also meets with businesses, Go-Go bands, religious institutions, and anybody else who wants to become a part of the movement.

Finally, they act as a catalyst to get these entities working together towards the same goal.

In a city where the homicide rate increased 16 percent in 2002, the members of No Murders D.C. admit they have their skeptics, but that is not stopping them from trying to create a murder-free D.C.

"In all the community work that is being done, the most important thing is to save a human life," said Nizam Ali, a core volunteer with No Murders D.C. "We all should not just sit by and watch. We should do our part. Many cynics call us crazy and state that murder is a common thing and when it's their time to go, it's just their time to go. But to accept that is craziness."

The movement's message also has its supporters -- some of whom do not even live in the District.

"Homicide in the District does not affect where I live," said Springfield, Va. resident and No Murders D.C. volunteer DuBois Gilliam. "But homicide does affect people and anything that affects people has an effect on me."

In the end, Bowers does not hope that the skeptics will just believe in the same vision that he sees; he hopes the entire city will work towards the goal and, when reached, continue to promote it.

"In the end, we hope that the residents of the District will take ownership of the movement and it will become institutionalized."



Contact Natasha Smith at District_Chronicles@hotmail.com.
Get Top Stories Delivered Weekly
Recent districtchronicles News Articles
Discuss This Article