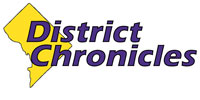 Post Classifieds
Hoops4Africa Brings Hope Across the Seas
By Maiya Norton
On April 15, 2004
Somewhere in distant Africa, a team of children jog up and down a dirt court, not wearing the latest Nikes. Conditions of poverty, disease and death surround them as they smile and laugh, playing basketball and dreaming.Stephan Bekale was once one of the children in Tchibanga, Gabon - located on the west coast of Africa. He dreamed about Michael Jordan and Magic Johnson, and was even called Hakeem Olajuwon (all-star center on the Houston Rockets) by his teammates.
Bekale's goal of playing basketball inspired him to find a way to America. He contacted the U.S. embassy to get a visa, and with his family's savings and encouragement, Bekale purchased a one way ticket to New York.
Homeless and driven, Bekale struggled, and his efforts in high school paved a path to college basketball.
The 6-foot-8 player for Penn State University, noticed how wasteful his "blessed" teammates were, often throwing away their new shoes.
"My friends back in Africa used to call me and tell me, 'I want this type of shoe. Can you send me some?' because they knew I was playing basketball," Bekale said.
Recognizing the opportunity, Bekale arranged for shoes, jerseys, shorts and other supplies to be sent to several teams in Africa.
The spirit of humanitarianism blossomed when Bekale created Hoops4Africa in 2002. Hoops4Africa is a non-profit organization dedicated to educating African youth about HIV/AIDS awareness through NBA endorsement.
"I really struggled a couple of years ago when my parents died of AIDS," he said. "This is the reason why I created Hoops4Africa to give a chance to young African kids."
During his years on the Penn State basketball team, lasting relationships with prominent NBA players were formed. The man behind the vision realized the impact of basketball stars on the youth, and decided to put his ideas on paper. Support for his dream began coming from every direction. Senator Barbara Mikulski from Maryland and Congressman Donald Paine of New Jersey assisted him in accelerating the process. Each was unavailable for comment.
NBA coaches consulted with Bekale on who to solicit. The largest sponsors of Hoops4Africa are the MCI Center, Washington Sports Entertainment, and Alexander Key Investments along with local law firms and smaller businesses.
Richard Barron, a private wealth advisor for Alexander Key Investments helped Bekale organize Hoops4Africa and introduced him to NBA clients that shared his charitable vision.
"I've acted in more of a financial advisory capacity," Barron said. "I share his vision and I make it my practice to be involved in humanitarian issues."
The law firms handle legal fees and keep the organization in good standing. The MCI Center provides Hoops4Africa with advertisement, credibility and allows the organization to use their facilities for events.
"We support his initiatives. We don't have an agreement because we don't do agreements with charitable organizations. We help him as we feel necessary," said Brian Cawley, a marketing representative at the MCI Center.
The MCI Center hosted a fundraiser for Hoops4Africa in March. Support is rapidly expanding for the organization, which currently has close to 200 members.
Patrick Ewing, George Lurch and Jamal Mashburn of the New Orleans Hornets are just a few of its current members.
"There is no process for being a member. If you want to be involved with Hoops4Africa, you come and tell us what you plan to do and what you can bring to us," said Bekale.
Contributions range from ideas, money and supplies to participation in events. Donors can specify whether their money goes to putting together the organization, sponsoring a trip to Africa, or supplies such as basketballs.
Bekale contacts ambassadors in African nations in order to get permission for the projects.
"Everything starts with the embassies," he said. "You tell the ambassadors about what you are doing and the ambassadors call the government in the country to let them know there is a company called Hoops4Africa."
The organization is currently expanding and planning visits to Ethiopia, Botswana and South Africa to target children from ages 8 to18. NBA and WNBA players will be trained in a 3-day workshop to learn how to raise awareness during their visits.
"We are going to do workshops and visit many different schools to let the NBA players talk about AIDS and its importance," Bekale said.
Following the workshops and educational portion, the local teams will have a chance to play a game against the NBA players and meet their role models in person.
Bekale's ultimate goal is to build several basketball courts throughout Africa, continue to educate and spread awareness, and eventually enter the realm of medical research.
Hoops4Africa is planning a press conference in the National Press Building with ambassadors, politicians and NBA members in attendance. This event will be held on June 10, followed by a player/sponsor fundraiser on July 12.
There will also be an event held at Dream nightclub in the near future. Visit Hoops4Africa.org to find how to get involved.
Contact Maiya Norton at district_chronicles@hotmail.com.
Get Top Stories Delivered Weekly
More districtchronicles News Articles
Recent districtchronicles News Articles
Discuss This Article