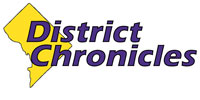 Post Classifieds
Celebrating Dr. King's legacy
By Khadijah Ali-Coleman, Contributing Writer
On January 12, 2006
On February 22, 1960, approximately 200 Virginia Union students marched into downtown Richmond, holding a sit-in at the upscale Richmond Room restaurant at Thalhimer's Department Store in response to its segregated policies. Thirty-four students, later referred to as the "Richmond 34," were arrested at the scene, the city's first arrests during the Civil Rights movement.
Local Coolidge High School biology teacher, Elizabeth Rice, was one of the Richmond 34 and recalled the passionate rise of the movement proudly."It was an amazing period of time," Rice said. Rice was a member of SCLC and one of the organizers of the 1960 sit-in at Thalhimer's, which ultimately led to the desegregation of the department store.

She believes the civil rights movement of the '60s resonated with a spirit that is lacking today.

"I don't see the rising up or anyone taking the lead today," the high school teacher mused. "It is evident racism is rearing up. It's like people are waiting for a miracle or for the administration to do something different. We were very active in making things happen."

Shanita Burney, Director of the Peer-Supported Pregnancy Prevention Program (PSP3) and Teen Life Choices, has worked with local youth for almost ten years. Burney believes that before the next generation can run with the baton of the civil rights movement, they must be nurtured and trained properly.

17-year old Shawnita Jackson stands poised and ready for the challenge. Jackson, a poet and community peer leader, facilitates sessions about healthy relationships, positive choices, and self-esteem for young people through the Covenant House Washington's PSP3 program. Jackson first took interest in King's legacy in middle school.

"Martin Luther King was a person that wasn't afraid to talk to people. He had a belief in prayer protecting him. He inspires people like me to do something." Jackson said.

Rice, who is writing her memoirs of the civil rights era to be published in 2006, met Martin Luther King and escorted him around campus when she was a student at Virginia Union. She admired his leadership of the civil rights movement and believes the Black church needs to reclaim its position at the helm of civil rights for black people.

"The church was the focal point during the civil rights movement. Meetings took place there, change was planned there," Rice said. "The nonviolent aspect has really gone through the window-there is so much violence everywhere now."

"Dr. King was one of my heroes," said Ward 6 D.C. resident John Capozzi. "The method of nonviolence is what I admired about him most of all."

For decades, Capozzi has been at the helm of advocacy efforts to spread awareness and garner support for having D.C. fully recognized as a state and to gain voting rights in the Senate and the House for D.C. residents.

Capozzi said that if Dr. King were alive today, he would see his vision of solidarity among people is not realized, particularly in our nation's capital. With the recent mayoral and council decision to build a baseball stadium, in lieu of improving D.C.'s educational infrastructure and poverty concerns. DC's priorities, in Capozzi's opinion, are misdirected.

"[King] also wouldn't be happy to see that the people here in D.C. still don't have rights when it comes to voting," Capozzi said.

Capozzi has been a resident of D.C. since 1978 and was elected in 1994 to serve as a D.C. Shadow Representative. He continues to advocate for the rights of DC residents as a leader of the Barney Circle Neighborhood Watch.

William Honablew, Jr., CEO of The Honablew Group, LLC, a business, consulting and legal agency, believes that during the King holiday on January 16, celebration should involve activating people to empower themselves rather than just participating in a parade, sleeping in late or listening to speakers.

As chair of the Political Empowerment Committee of Baltimore's Urban League, Honablew and his committee members will, on King's birthday holiday, challenge students of Baltimore-area colleges to compete against each other and find out which school can register the most Maryland residents to vote.

"It's not a direct celebration of his birthday but of his legacy of political empowerment. Our current state of empowerment is so paltry it's an embarrassment to past generations," Honablew
maintained.

Locally, in honor of the King holiday, Rice, Capozzi, and members of the Barney Circle Neighborhood Watch team are planning an Anti-Crime March to be held on Monday, January 16 at 7 p.m. at Liberty Baptist Church in Southeast D.C.

Initially started as a citizen patrol recruitment event 16 years ago, the annual march is held on Martin Luther King, Jr.'s birthday to encourage participation.

Capozzi hopes King's message during the rally will inspire others to become active in positive change for their community.

Burney suggests that Blacks can begin to live out the legacy of King by looking in the mirror.

"Start with "I" - so often, we get overwhelmed with the concept of the "village" or the "community" - feeling as if there is no hope because 'Black folk ain't gon change'. We can and will by starting with ourselves.
Get Top Stories Delivered Weekly
Recent districtchronicles News Articles
Discuss This Article