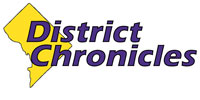 Post Classifieds
'Stop the Bullying' goes on the road
By Glenn Sutton
On December 31, 2013
Sutton's anti-bullying production tour recently came through D.C. where he performed at the very school he was bullied at a young age. With him was former school mate and Motown star Stacy Lattisaw (right). Glen Sutton
Traveling to such places as Washington D.C., North Carolina and Virginia schools, I was able to unveil "Hit em Again," an Anti Bully Production.
During each of my theatrical presentations I try to make my performance come to life as I take the students on a journey - a journey of my personal story when I was bullied. I have witnessed how the students are amazed when they see and feel the emotions that come from being bullied.
I deal with the victim, the bystanders and the bully. Many times I see the tears in the students' eyes as they see my tears that are real just from the re-enactment of being bullied. I also address the cyber bully who is lurking on the computer making threats about other students.
I have thankfully witnessed lives changed because of this production. My goal is to make people aware, not just once or twice, but every day. Our children's lives are at stake; their dreams are at stake and their self-worth is at stake.
Not only do these students and teachers need to see the production but also parents. They need to know what steps to take if their child is being bullied. For example, talk with the student's teacher, principal and social worker and make sure to follow up.
After my show, I have students bellow, "I will not stand by and watch others get bullied ever again."
I now have a radio show, "Think Positive" on Fridays from 4pm - 5pm on Lumberton, N.C.'s WAGR 1340 AM.I bring together students from different schools and former students and talk about the goals they want to accomplish. My goal is to have our children attend school and learn without the fear of being bullied.
For more information, or to schedule a school presentation with Sutton, call 910.551.4739 or email: gospelplay@embarqmail.com.
Get Top Stories Delivered Weekly
More districtchronicles News Articles
Recent districtchronicles News Articles
Discuss This Article