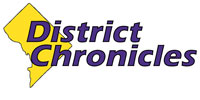 Post Classifieds
Closing the gap for youth with challenges
By Khadijah Ali-Coleman, Contributing Writer
On February 16, 2006
Six-year-old Titus Hodges draws curious looks that border on rudeness as he goes shopping with his mother, Doreen. As they shop for their dinner for the night, they are followed by whispers and stares that are barely veiled -- and sometimes very annoying."This one time, we're in the store, and we're literally followed by someone trying to get a closer look at Titus' eyes," Hodges said. "So, you know what we did? We turned around and began following them right back and staring at them. They were like, 'Can I help you?' and I was like, 'No, can we help you?'"

Titus is autistic and has Down Syndrome. Wearing the typical physical characteristics of a young person with Down Syndrome, thickened skin and a stocky build, Titus also has eyelids that are flipped inside out.

"It's natural for people to be curious, but they don't have to be rude," she said. "People think children with mental and physical challenges can't think or do for themselves, but they are very intelligent."

According to the Web site of Family Voices of D.C., a national organization that advocates for families of young people with special needs, more than nine million children in the United States have a special health care need.

But despite this large number, services are severely lacking, advocates of special needs children complain. In the areas of recreation and the arts, services are practically non-existent.

"I had put Titus in a program through the D.C. Department of Parks and Recreation, but that didn't work out," said Hodges, who works for the D.C. Mental Retardation Developmental Disabilities Administration.

The structure and location of the program, Hodges felt, were not supportive of Titus, and the staff was not trained to work with him.

"That's why I'm pretty happy KEEN will be coming to this area," Hodges said.

The organization Kids Enjoy Exercising Now is a volunteer-run nonprofit organization that is modeled on a program implemented in Oxford, England, by Elliott Portnoy, who brought it to Bethesda, Md., in 1992. With help from a handful of parents and volunteers, KEEN started small but has grown into a program that serves hundreds.

Program participants are called "athletes" and are allowed to stay in the program as long as they are able to. Trained volunteers serve as coaches, guides and teachers. The volunteers and families of the kids develop recreational activities, including soccer, basketball, swimming, bowling, dance and general fitness, which are provided free-of-charge. To keep the programs accessible to all families of special needs individuals, KEEN accepts donations and has two annual fundraising events.

"This is where the need is so great. There is a big difference [statistically] between Caucasian moms and African American moms," said Hodges, who plans to enroll Titus once the Southeast location opens in early March. "Many African American families, if they have insurance, are on Medicaid and don't have the money to pay for services [like those offered at KEEN]."

Maddy Rudd has a 20-year-old son, Richard, who is autistic and has been in KEEN for more than 10 years. She commends KEEN's mission and programs to bring families of special needs children together.
"KEEN has been a lifesaver," said Rudd, who is a single mom. "KEEN is the only free agency that provides those services."

John Collinge and wife Zandra chose KEEN for their autistic son Sam as he struggled to fit in mainstream environments when he was 12-years-old in 1995.

"Sam is unusually interactive for an autistic person but has difficulty with interpersonal relations," John Collinge said. "We also were looking for physical activities as we wanted to reinforce Sam's enjoyment of exercise and his willingness to exercise on his own."

John said that KEEN has helped develop Sam's self-confidence and given him activities he enjoys doing in a group and on his own.

"It probably has also helped his ability to interact in a group and to appreciate and show compassion for the needs of others," he said.

Beata Okulska, KEEN's executive director, said that the expansion into Southeast will help change more lives for the better.

"We have young people in the program who have been here for years. This is such a meaningful organization. When you attend the program and see the joy on the faces of the children and see how the families depend on the program and volunteers, it really is amazing."

===================================================
To learn more about KEEN, visit www.keengreaterdc.org or contact Beata Okulska at 301-770-3200. To contact Doreen Hodges and learn more about her outreach efforts, e-mail her at kingtitus mom@yahoo.com .
Get Top Stories Delivered Weekly
Recent districtchronicles News Articles
Discuss This Article