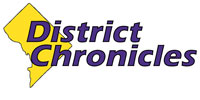 Post Classifieds
The long wait: too many in need of transplants
By Criscia Dawson
On November 8, 2011
DC Councilman Marion Barry knows all to well the importance of the organ donation; he received a kidney last year. senatorteaparty.com
BRITTENY HAS CANCER. That was the text message my friend sent me our freshman year in high school. So many questions ran through my head: Why her? Is she going to die? Or will she be able to live with it until it goes away?
Then I started to remember all the good times we had going over her house and making up little games. I remembered when I used to play with her long black hair; we used to walk to the gas station, talking about the things that were happening in our lives. It was hard to think we might never be able to do that again.
As time went by, Brittney got sicker. Her long, luxurious hair started to fall off her head. She got skinnier by the day. But she valiantly kept her old and happy-self. Sheconsidered adding her name to the transplant waiting list for new tissue. But the list was long and the wait was over a year.
She never complained about her illness. On September 27, 2005, Brittney lost her battle with cancer at the age of 16.
Hardly a day passes by without reflecting on what would have happened if enough people became organ and tissue donors. Britteny would be around, I keep thinking. Every adult in the world is carrying around raw materials that could save lives. The organ tissue from a single donor can save over 50 lives.
DC Councilman Marion Barry knows this first hand. He has adopted organ and tissue donation awareness as a personal cause after receiving a life-saving kidney from a close friend. Dr. Clive Allender performed the surgery last February at Howard University Hospital.
"I knew organ donation was important, but you don't understand just how important the need is until it touches you or someone close to you," said the former three-term DC mayor. "I am thankful to have found a living donor: one who was generous and selfless enough to give of herself to help save my life. My goal is to raise awareness of the importance of organ donation in hopes of helping others who are in need."
Barry stressed that he was fortunate. In the Washington area, nearly 3,000 new patients are added to the list every month, and more than 16 people die every day while waiting for a transplant of a vital organ. According to the U.S. Health Resources and Service Administration, 110,324 people were on a national waiting list for organ donation as of February 10, an 80 percent increase from the 59,862 people on the list a decade before.
Belinda Armstrong, wife of a lung recipient in Detroit, Mich., knows too well the highs and lows of organ donation. Armstrong's husband, Darryl, was diagnosed with Pulmonary Fibrosis in 2009, the scarring or thickening of the lungs without a known cause. He needed a double lung transplant. He was lucky. He found a donor.
"I was thankful that the young man who lost his life in a car accident made the decision to be an organ donor," said Armstrong with tears in her eyes. "His lungs kept my fiancé alive longer."
Darryl died from other complications, but Armstrong still believes that organ donation is something everyone should do.
"There isn't an argument for deciding not to be an organ donor," she said. "You don't need your organs, so why not save a life in death."
To find out more about organ and tissue donation, visit www.YouTube.com/user/WRTCbeadonor or visit www.organdonor.gov.
Get Top Stories Delivered Weekly
More districtchronicles News Articles
Recent districtchronicles News Articles
Discuss This Article