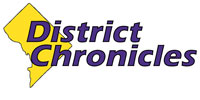 Post Classifieds
United for D.C. honored with President's Council on Fitness, Sports & Nutrition Community Leadership
On May 26, 2012
Washington, D.C. (May 21, 2012) - The President's Council on Fitness, Sports & Nutrition (PCFSN) has selected United for D.C. to receive a 2012 PCFSN Community Leadership Award. The award is given annually to individuals and organizations which improve the lives of others within their community by providing or enhancing opportunities to engage in sports, physical activities, fitness or nutrition-related programs. The foundation will be officially presented the award at halftime of D.C. United game on May 26 at 7:30 p.m. ET as part of United for D.C. Day festivities. In addition, Megan Nechanicky, ORISE Fellow, Nutrition/Physical Activity Programming & Communications, will be on hand at a United Soccer Club training session, Tuesday, May 22 from 4:30 p.m. to 6:00 p.m. ET at Orr Boys and Girls Club (2200 Minnesota Ave. SE) in Washington, DC.

"It is our pleasure to present this award to United for D.C.," says Shellie Pfohl, executive director of the President's Council on Fitness, Sports & Nutrition. "Through creative and meaningful programming, this foundation works tirelessly to encourage physical activity and proper nutrition to positively impact the health of their communities. Together, we are all working to make our nation a healthier one."
Founded in 2002, United for D.C. serves youth and families with a focus on healthy lifestyles, literacy and education, and improving life skills. United Soccer Club, a charter member of the US Soccer Foundation's Soccer for Success program, is sponsored by Volkswagen, Gallup and The D.C. Department of Health, is one of the many community outreach ventures of United for D.C. Others include the Kicks for Kids program, sponsored by Arent Fox, Senate Asphalt and CSC, through which thousands of underprivileged children will have an opportunity to attend a United match this season, as well as United Reads, sponsored by TD Bank, currently presented in six DC elementary schools. This program distributes nearly 8,000 books during player visits throughout the year.
"This is a terrific honor for United for D.C. and we really appreciate this recognition from the President's Council," said D.C. United President and CEO Kevin Payne. "As the charitable arm of D.C. United, United for D.C. is largely responsible for fulfilling that part of our mission statement which says we will serve the community. Receiving this award helps validate our continuing commitment to the children of the Washington, D.C. community."
This year, the President's Council presented the Community Leadership Award to 47 individuals across the country for making sports, physical activity, fitness, and nutrition-related programs available in their communities.
For more information on United for D.C. or any of its signature programs, please visit www.unitedfordc.org or contact Aprile Pritchet at 202-587-5453 or apritchet@dcunited.com.
About the President's Council on Fitness, Sports, and Nutrition (PCFSN)
PCFSN promotes healthy lifestyles through fitness, sports and nutrition programs and initiatives that educate, engage and empower all Americans. PCFSN is a committee of volunteer citizens appointed by the President who serve in an advisory capacity through the Secretary of Health and Human Services. For more information about PCFSN, visit www.fitness.gov. For more information about the President's Challenge Physical Activity, Nutrition & Fitness Awards Program or the Presidential Active Lifestyle Award, visit www.presidentschallenge.org.
Get Top Stories Delivered Weekly
More districtchronicles News Articles
Recent districtchronicles News Articles
Discuss This Article