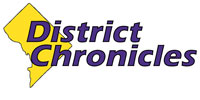 Post Classifieds
Support for Black businesses key to Black economic strength
By Hazel Trice Edney
On April 28, 2014
National Bankers Association President/CEO Michael Grant (left) and its Chairman Doyle Mitchell recognize U.S. Treasury Department retiree Donna Gambrell (center), for her work to strengthen Black-owned banks. Rodney Minor/NBA
(TriceEdneyWire.com) - National Bankers Association President/CEO Michael Grant says mutual support among Black businesses and consumers must become an "almost religious" culture in America if the Black community is to ever to attain significant economic strength.
"We are aware that our community was hardest hit by this recession. We're aware that the historical and structural barriers against us remain. But, here is the real deal: We have enough wealth within our family to go toe to toe with anybody in America," Grant told dozens during a legislative regulatory conference reception, sponsored by the NBA in downtown D.C.
"If we are going to succeed as a people, we have got to learn - I mean with a burning passion - to commit to supporting each other in business." He continued, "We have got to be almost religious about this my friends. Nobody is going to save us but us."
Grant seized the moment amidst a room full of bankers, regulators, media and small business owners, earlier this month. His remarks came on the heels of wide-spread news reports that the number of grants and loans from the U. S. Small Business Administration (SBA) to Black-owned businesses has been abysmal, underscoring the need for internal community support as well as advocacy.
For those involved with Black business advocacy the SBA revelation is unacceptable.
"That is really a tragedy for an organization like ours that represents a quarter of a million Black-owned businesses. We have to address that," said Ron Busby, president of the U. S. Black Chambers, Inc., who spoke briefly after Grant.
Busby noted the less than 2.5 percent of loans the SBA reportedly awards to Black-owned businesses.
"We can talk about 'My Brothers' Keeper.' We can talk about 'My Sisters' Keeper.' But, at the end of the day, this is truly about Black businesses being in business making sure that they can employ these young adults as they get through the system if it works."
Reactions around the room brought strong agreement with Grant as some speculated on the reasons that African Americans fall short when it comes to supporting each other's businesses.
"I think psychologically, as a people, we've had some circumstances that other groups have not had in this country," said Industrial Bank President/CEO Doyle Mitchell, also NBA chairman. Mitchell was alluding to the bond between Blacks during Jim Crow segregation when their patronage of White-owned businesses was limited verses post segregation which opened up the markets to choices African Americans never had.
"Asians have not had the kinds of circumstances and situations that we've gone through. Hispanics have not had that. And I think when we were forced to support each other we did it. But, for some reason when we weren't forced and we got options, then we got away from it," said Mitchell. "And I think we just have some psychological issues as a people."
Mitchell speculated that perhaps African Americans don't so readily support each other because having been enslaved for centuries, Blacks were conditioned to think lowly of themselves and each other.
"We don't believe we can do things as good as other people do. That's the only thing that I can come up with because every other race on the face of the planet supports each other, except us. And I think our very survival is going to depend on it."
Constant reminding and advocacy may turn that mindset around, says Barbra Lang, former president of the D.C. Chamber of Commerce, who now owns Lang Strategies, LLC, a business consulting company.
"Many times we don't even have it as a part of our consciousness of how we go and do that," said Lang who led the Chamber for more than a decade. She pointed out that she has quickly discovered that most of her new business contracts, have "come from White executives; not from African Americans ... I think we all have a responsibility to lift a hand and bring somebody with us. That means individually also as minority businesses."
Get Top Stories Delivered Weekly
More districtchronicles News Articles
Recent districtchronicles News Articles
Discuss This Article