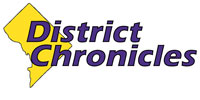 Post Classifieds
Smokey Robinson shows love to Duke Ellington school
By Angelique T. Gayle
On March 18, 2012
Smokey Robinson speaks prior to an assembly in his honor at Duke Ellington School. Mark Mahoney
India Reynolds' mezzo-soprano vocals resounded throughout the Kennedy Center Concert Hall as she belted out the Marvellettes' 1966 classic hit "Don't Mess with Bill." She sashayed and strutted across the stage, delivering a performance of raw emotion. Every high note she hit, the audience applauded. When her stint was done, she left the audience with two things: goose bumps and a performance hard to forget.
Reynolds and her classmates at Duke Ellington School of the Arts recreated the Motown sound, crooning hits like Smokey Robinson's "Ebony Eyes" and Marvin Gaye's "Ain't That Peculiar," while the jazzy dancers mimicked the iconic dances of The Temptations, The Supremes and The Marvellettes.
Founded in 1974, Duke Ellington is the only DC high school that provides pre-professional arts training and college preparation. This year's enrollment 500.
The young artists were the opening act on March 3, for the legendary Smokey Robinson who was celebrating his 50th anniversary in the music business and the 50th anniversary of Motown Records. The performance was the latest installment of the school's legends of music which has also featured the likes of David Chappelle, Denyce Graves, Stevie Wonder and Earth Wind & Fire.
"These artists' willingness to give back their time, resources, and inspiration through this performance series provides Duke Ellington students valuable exposure and customized artistic direction," said Rory Pullens, head of the school. "Their contributions have also provided a source of revenue that allows us to continue our important mission of providing arts education to deserving students who wouldn't otherwise have this opportunity."
It's surreal. It still hasn't really set in," said junior literary communications major Lauryn Nesbitt. She recited a poem that paid homage to Robinson and his groundbreaking contributions to music. "We are offered these opportunities on a regular basis. But it's still always surreal."
Ellington students have in the past shared the stage with the likes of Patti LaBelle,Beyoncé Knowles, and Boyz II Men.
The concert series began in 2008 and serves as a mechanism to raise funds and awarenessabout the importance of arts in schools, while showcasing the talent of current Duke Ellington students.
Cornelius Williams, a junior, vocal major, is a multi-talented student who plays the drums, guitar, saxophone, and piano, but gave a vocal performance during the concert.
"Had I not come to Duke, my life would be so terrible," Williams said. "At Duke, I am surrounded by people who enjoy my gifts, my talent and my company." Williams' mother watched proudly from the audience as he doo-wopped and crooned on stage.
"I am extremely proud and grateful," she said. "I knew he had a calling and a gift and to see it blossom like this and he's only an eleventh grader. I can only imagine what will happen if he continues his studies in music."
Julian Spires, a junior, and has performed with music greats like Earth Wind and Fire, Herbie Hancock, John Legend and George Duke. On March 3, he added Smokey Robinson to the list of music legends he has performed with. "If I didn't go to Duke, I wouldn't be what I am now," Spires gushed.
Last summer, the Eugene B. Casey Foundation gave the school an endowed gift of $17 million provided the school raises a matching amount by 2014. The school has raised $2 million so far.
"Duke Ellington has a good thing going and I wish we still had the arts in all of the schools," said school co-founder Peggy Cooper Carfritz, a former D.C. Board of Education member.
Get Top Stories Delivered Weekly
More districtchronicles News Articles
Recent districtchronicles News Articles
Discuss This Article