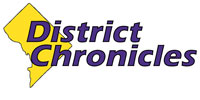 Post Classifieds
Radio One comes to Howard's aid with $4 million gift
By Phillip Johnson
On March 17, 2014
The yard was practically empty the day before spring break. Only one or two students lugged overweight suitcases, beads of sweat covering their brows. But there was relief on their faces, relief that they were leaving academics behind them for a week. Not a single one of them wanted to think another university thought.
In contrast, the atmosphere in the second floor auditorium in the Howard School of Business was grim. All the usual suspects were there: the Black Power contingent, future student government leaders, the philosophers, teachers, historians and, of course, the administration.
Interim President Wayne A. I. Fredrick sat off to the side, trying - and succeeding - to look anonymous. But when he rose and took the podium, the message he delivers was disconcerting - to at least some of his listeners.
"Howard University is a business and we need to make money," said Fredrick, who earned his bachelor's, medical and master's of business administration degrees all from Howard. He acknowledged that, as a business, Howard must invest properly and be invested in.
"We know that continuously raising tuition as a form of income is not sustainable. We need partners with deep pockets to make the goals of the university sustainable."
Radio One's top two executives must have gotten the message. On Saturday, Frederick announced that Radio One's CEO Alfred Liggins and Catherine Hughes, founder, had given a $4 million gift to the School of Communications. Howard is courting several Fortune 500 companies to help it support its hospital and academic programs.
Ruby Lee Castain, founder of Wingz of Lyfe, a student organization at Howard, said it would be hard to stomach Howard's partnership with the "notoriously predatory" Fortune 500.
"We need to use our talents to support our community in a way that will educate and move our community forward," she said. "Profit should have nothing to do with it."
In a panel discussion earlier, former Howard student Kendall Craig touched on the real mission of Howard and its students and alumni.
"In the beginning, Barry Farms gave all that it had to ensure that we have this institution and this future," said Craig. "We need to honor our ancestors by stepping up to the plate and being the ones who save this great 'Mecca.'"
Get Top Stories Delivered Weekly
More districtchronicles News Articles
Recent districtchronicles News Articles
Discuss This Article