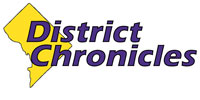 Post Classifieds
BET rebrands Centric for Black women
On April 28, 2014
"Single Ladies," a series produced by Queen Latifah and recently canceled on VH1 will be revived on the BET's Centric network. VH1
Centric, BET Networks' 24-hour music and entertainment network, last week unveiled a new branding strategy. The channel will now be positioned as the network for African-American women, with programming selected to appeal directly to them.
The centerpiece of the move is an exclusive co-production deal with Queen Latifah's Flavor Unit Entertainment to produce new content for the network. The production company, owned by Queen Latifah and her partner Shakim Compere, has already developed a successful track record, led by daytime talk program, "The Queen Latifah Show." BET recently began airing the show in late-night.
"We are thrilled to be working once again with Flavor Unit Entertainment and Queen Latifah," said Debra L. Lee, BET Networks Chairman and CEO. "She does it all and we are happy to have her join us as a creative force as we continue to grow Centric into a premiere destination for African-American women. We couldn't be more excited about what's ahead."
As part of the deal, BET Networks will develop and premiere an all-new Season 4 of the highly rated "Single Ladies" on Centric. This modern, romantic comedy series is set in the world of Atlanta fashion, music, and celebrity as best friends share their differing views on love, sex and relationships. "Single Ladies" asks the question: what do women really want?
"At more than 10 million strong, and in control of $20 billion in buying power, the African-American woman is an increasingly powerful, yet often overlooked consumer. No other network has embraced her with content designed specifically for her - until now," said Louis Carr, BET Networks President of Broadcast and Media Sales. "Centric is the first network to deliver the programming that celebrates, inspires and addresses her unique perspective."
Centric's popularity with African-American audiences, most notably with African-American women ages 25 to 54, continues to grow, with the network marking its most watched quarter in its history. For FY14 Q2 (Jan-Mar), Centric experienced its best quarter ever for Total Day and Primetime viewership, posting gains of +20 percent.
Centric announced the following programming at the BET Networks' Upfront presentation in Los Angeles:
NEW PROGRAMMING:
"Single Ladies" Season 4
RETURNING PROGRAMMING:
"Being" is a documentary series highlighting music and entertainment's most dynamic figures - and a place where the stars tell their own stories, in their own words. Featuring never before seen photos, videos, and revealing interviews, "Being" delivers a compelling inside look at the inspiring lives of the biggest names in music, media and more.
"According to Him & Her" approaches timely topics involving relationships, friendships, dating and sex in a "he said, she said" battle of the sexes. Every week, an onslaught of comedians, relationship experts and surprise celebrities will engage in a series of questions resulting in no-holds barred banter giving audiences the opportunity to finally see how the other sex thinks from a comedic perspective.
RETURNING MEGA-SPECIALS:
"Soul Train Awards," known as the "Hippest Trip in America" returns for 2014 with its signature awards show. Featuring never before-seen musical collaborations and powerful tributes from world-class performers, the "Soul Train Awards" will be simulcast on Centric and BET.
"Centric Comedy All-Stars" hosted by Bill Bellamy will enter its third year honoring an industry icon. Some of the top names in comedy, in addition to comedians on the rise will make appearances during the show.
Get Top Stories Delivered Weekly
More districtchronicles News Articles
Recent districtchronicles News Articles
Discuss This Article