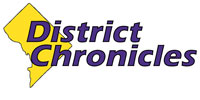 Post Classifieds
Mega fix: Big names unite to fix racial disparities in STEM education, employment
By Freddie Allen
On April 28, 2014
Reginald Van Lee (left), a senior vice president at Booz Allen Hamilton's Washington, D.C. branch, talks about megacommunities at a recent health care symposium at Howard University in Washington, D.C. Freddie Allen/NNPA
WASHINGTON - To address persistent, racial disparities in science and engineering careers, educators and community stakeholders have embraced the "megacommunity" model of cooperation.
The model is characterized by its tri-sector approach to solving hard, real world problems through non-profit groups, government agencies and businesses collaborations. From battling the HIV/AIDS epidemic in India, to preserving rain forests in South America, to revitalizing neighborhoods in Harlem through economic development, leaders around the globe have utilized the model.
"You have to have collaboration across the private sector, the public sector and nonprofits working together to solve these problems if you want the solution to be sustainable," said Reginald Van Lee, a senior vice president at Booz Allen Hamilton in Washington, D.C. "We discovered if one of those sectors is left out, eventually that will sabotage the solution."
Van Lee, who co-wrote a book on megacommunities, shared his thoughts on the unique problem-solving approach at a recent health care symposium at Howard University in Washington, D.C. He said that effective megacommunities must be inclusive, adaptable, tech savvy, feature tri-sector engagement, foster talent and focus on long-term solutions.
Getting more minorities into STEM (Science, Technology, Engineering and Mathematics) careers will become increasingly important as the workforce becomes more diverse and job growth in STEM-related fields continues to outpace the job growth in other sectors.
"From the post-World War II era through 2009, the science and engineering workforce has grown from 182,000 in 1950 to 5.4 million," said the Joint Center for Political and Economic Studies recent report. The report added that over the past decade, job growth in the technology sector has outpaced growth in other sectors. This trend is expected to continue.
"Through 2018, job growth in these sectors is expected to outpace job growth in fields less dependent on STEM-prepared workers," the report said. "While the latter set of jobs is expected to grow at a rate of 9.8 percent through the next five years, the jobs most dependent on STEM workers are expected to grow at a rate of 17 percent during the same period."
The Joint Center report said that only 17 percent of employed African Americans over the age of 25 have a college degree in a STEM-related field compared to 22 percent of Whites. Yet, Blacks hold less than 4 percent of all science and engineering jobs, and Whites occupy nearly 72 percent of all science and engineering jobs.
And while Black unemployment rate is 12.4 percent, according to the most recent jobs report by the Labor Department, the jobless rate in computer and math jobs is 3.3 percent, less than half of the national unemployment rate of 6.7 percent.
Lynne M. Holden, a board-certified Emergency Medicine doctor at Montefiore Medical Center in Bronx, N.Y., said that she had never heard of megacommunities before the November health care summit.
Holden said that the number one reason that minority students did not pursue science and math careers was a lack of confidence.
"Either they were told they could not do it or they believed that they couldn't do it," said Holden
"The fact is that whether we're talking about whether someone lives or dies, whether we're talking about whether we can find a cure for cancer, whether we're talking about whether we can protect our country, whether we're talking about what do with the environment and global warming even when we're talking about our quality of life everyday there is some connection to what we call 'STEM,'" said Freeman A. Hrabowski, III, president of the University of Maryland, Baltimore County, who also chairs President Barack Obama's Advisory Commission on Educational Excellence for African Americans. "If you're going to be really good at STEM you have to be really good at the other subjects, too."
Get Top Stories Delivered Weekly
More districtchronicles News Articles
Recent districtchronicles News Articles
Discuss This Article