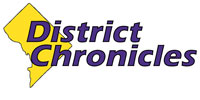 Post Classifieds
Realty tv star Flight Time Lang leads Harlem Globetrotters into Washington D.C. And Fairfax
Flight Time to spread goodwill in D.C. area from March18-20
On March 17, 2012
Flight Time Lang has been a Globetrotter since he was 13 yrs old. phillyburbs.com
Harlem Globetrotters star Flight Time Lang will lead the Hall of Fame team's newest tour into Washington D.C. and Fairfax for three games on March 24-25. Before the Globetrotters take court, Flight Time will spread goodwill throughout the DC-area from March 18-20, including school visits.
To request an interview with Flight Time, email nemeth@harlemglobetrotters.com.
As a 13-year Globetrotter, Flight Time has developed a following on prime time TV, including two seasons and 22 episodes of the Emmy Award-winning series, "The Amazing Race." After finishing fourth in Season 15, Flight Time and teammate Big Easy Lofton were invited back for Season 18, "Unfinished Business." The duo got even closer the second time around, finishing second in the 11-team field.
Flight Time has also appeared on other popular TV shows such as "Hell's Kitchen," "The Bachelorette," "The Price is Right," and "Are You Smarter Than A 5th Grader?," where he accomplished the rare feat of correctly answering each question posed to him.
Flight Time has also shown interest to compete on "Dancing with the Stars" in a recent ESPN interview. Seehttp://espn.go.com/espn/page2/index?id=7614085.
The Globetrotters bring their one-of-a-kind skills to the Verizon Center in Washington D.C. (Saturday, March 24 at 1 p.m.) and the Patriot Center at in Fairfax (Saturday, March 24 at 7:30 p.m. and Sunday, March 25 at 2 p.m.). Tickets are available at www.harlemglobetrotters.com, each arena box office, or by phone at 1-800-745-3000.
The Globetrotters will take to the court for 270 games on the North American portion of the World Tour, bringing the Globetrotter magic to over 230 cities in 46 states, the District of Columbia, and five Canadian provinces.
Sponsored by Howard Johnson Hotels, Greyhound Lines, Spalding, and Russell Athletic, the Original Harlem Globetrotters will celebrate their 86th consecutive year in 2012, continuing a world famous tradition of ball handling wizardry, basketball artistry and one-of-a-kind family entertainment that continues to thrill fans of all ages. Throughout their history, the Globetrotters have showcased their iconic talents in 120 countries and territories on six continents, often breaking down cultural and societal barriers while providing fans with their first-ever basketball experience. Proud inductees of the Naismith Memorial Basketball Hall of Fame, the Globetrotters have entertained hundreds of millions of fans-among them popes, kings, queens, and presidents-over more than eight thrilling decades. For the latest news and information about the Harlem Globetrotters, and to purchase tickets and team merchandise, visit the Globetrotters' official Web site: www.harlemglobetrotters.com.
Get Top Stories Delivered Weekly
More districtchronicles News Articles
Recent districtchronicles News Articles
Discuss This Article