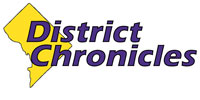 Post Classifieds
States making choices that hurt college students
By Jazelle Hunt
On May 20, 2014
Budget cuts in several states across the country are having a negative impact on public college. Justin D. Knight/howard.edu
WASHINGTON - During the recession, states' education expenditures -- like everything else -- took a substantial hit. But a new report from the Center on Budget and Policy Priorities finds that even as the nation recovers, most states are still funding their public colleges well below pre-recession levels, with eight states continuing to make cuts.
The divestment is feeding a two-pronged stumbling block to success for today's college students, especially those of color and/or from low-income homes, who are more likely to attend in-state public institutions.
First, these budget cuts are affecting the quality of education at public colleges and universities.
"States (and to a lesser extent localities) provide 53 percent of the revenue that can be used to support instruction at these schools," the report states. "When this funding is cut, colleges and universities generally must either cut educational or other services, raise tuition to cover the gap, or both."
These cuts often result in the loss of full-time, expert teacher positions in favor of switches to adjunct (contracted) instructors, the disintegration of entire departments and majors, truncated access to resources such as computer labs and libraries, and more.
In 2011, the University of North Carolina at Chapel Hill eliminated 16,000 course seats, four of its computer labs and two distance education centers. In 2012, Louisiana State University eliminated 1,210 full-time positions, including more than 220 faculty members. The University system of Georgia has merged independent state schools five times in the last two years. Nationwide, the number of faculty per student has declined.
In addition to the decline in educational quality, the decline in state investment is resulting in long-term financial instability for today's students.
There's the national trend known as the Great Cost Shift in which students and families, particularly low-income households, are shouldering more of the cost of keeping public colleges afloat. According to the report, enrollment fees, tuition, and other student charges accounted for 24 percent of state schools' revenue in 1988. Today, schools rely on student charges for 48 percent of their revenues. Stated differently, in 1988 schools received 3.2 times as much in revenue from state and local government as they received from students in 1988 -- today, it's just 1.1 times as much. In fact, at that time only two states -- Vermont and New Hampshire, both very affluent -- had average tuition amounts larger than state expenditures. By 2008, that had grown to 10 states, including Michigan and Pennsylvania, which both have significant poverty. In eight states (including a few with large Black populations, such as Louisiana, Alabama, California, Georgia, and Florida), average tuition has jumped by more than 50 percent in six years.
The Great Cost Shift is directly feeding swelling student debt.
According to a 2012 report from the Center for American Progress, 81 percent of Black students who earned bachelor's degrees took on debt to do it -- and 27 percent of these students are on the hook for $30,500 or more. Earlier this year, the United Negro College Fund, the largest and oldest private minority financial aid organization, called for emergency aid to supplement the weakened public financial aid system. By the end of 2013, student loan debt had surpassed car and credit debt, with American students borrowing more than $1 trillion to pursue degrees.
"As students are asked to shoulder a greater burden, they resort to borrowing," said Michael Mitchell, co-author of the report. "Over 2008 to 2012, there's been a major increase in debt, especially for low-income families, because financial aid is no longer covering the costs."
And the financial indebtedness extends well past college. In an effort to mitigate costs, students, especially low-income students, are choosing less competitive and less selective intuitions, despite being academically qualified for more prestigious institutions.
Ultimately, this widespread disinvestment and its results have implications for the future of the American economy which makes it difficult for recent college graduates to enter the middle class. This debt deters many from even attending college. Those who do attend and graduate go into repayment and cannot afford homeownership, advance degrees that qualify them for highly skilled careers, or full participation in the economy as a consumer.
Get Top Stories Delivered Weekly
More districtchronicles News Articles
Recent districtchronicles News Articles
Discuss This Article